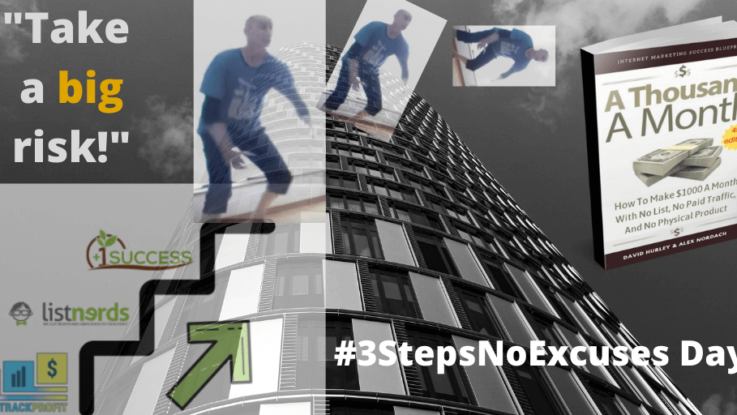 I'm a real slow coach… I finished Day 3 of the #3StepsNoExcuses Challenge yesterday… but didn't get around to writing up my report…
So here goes. Luckily, it's a bit briefer than Day 1 and Day 2…
Step 1: Working with Facebook
Working with Facebook is not my favourite online activity because I prefer NOT to promote my business activities on my main Facebook profile, where I have a whole untargeted mishmash of people as my Facebook "friends."
In fact, these days I don't tend to post much on my main Facebook profile at all.
Instead, I post my business-specific stuff to Facebook pages such as this one:
https://www.facebook.com/DavidHurleyInJapan
Step 2: Listnerds
This was nice and easy. I watched the intro video, made sure I'd synched my affiliate account with CTP (I had).
I have a business upgrade, but not the full monty version. I can post an email once every five days. So each day I log in I will click on a few inbox emails to earn some credits and increase my reach on the days that I can email the list. I have earned 452 extra credits towards my next email so far…
Step 3: Take A Big Risk
I watched the video and thought about some of the risks I've taken and want to take…
I go back to my #RookieTrader practice of trading crypto futures on #Stormgain. You cannot trade futures if you are not willing to take on a good deal of risk.
In the video @jongolson modified the "big" part by using the word "calculated". In my case, I'd like to think that the risk I take is increasingly "calculated" – NOT because I am good at "calculating" when the market will turn or in "timing" the market, BUT in my crypto futures trading strategy as a whole, and in the way I set up each individual trade.
Stormgain Trading Update
That reminds me! In my previous post I reported that I had an open trade a few dollars in the red:

I woke up the next morning to see the cheerful news that Bitcoin had recovered enough for me to close out the trade in the black (or green). Then I immediately dipped in and out again to more than double the profit:

And now I'm going to get straight on with Day 4!
Cheers,
David Hurley
#InspiredFocus