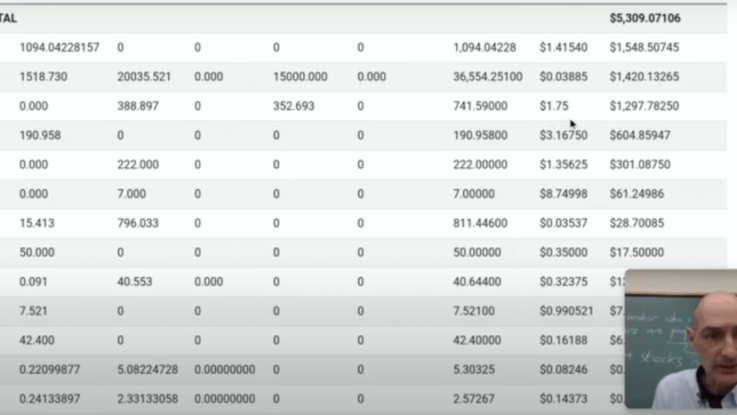 It's beginning to look as if Thursday afternoons is the time of the week when I get to report on my progress towards my year-end crypto-accumulation targets. I have a two hour break between two college classes. Both classes are in the same classroom and nobody uses the classroom in the gap between those classes, so I get to hang out in the classroom on my tod. Perfect for making a video update!
And here is my first in-class video update about my progress after three and a half weeks:
I was in a hurry to get the video done today and I hadn't updated the progress chart so I was hopping from tab to tab to check up on my progress across various assets.
The State of Play Today
Here is the table now I've had a chance to update it (the bold figures = a gain since the previous report, or a target achieved):
| | | | | |
| --- | --- | --- | --- | --- |
| Crypto Asset | 3rd November 2021 | 18th November 2021 | 25th November 2021 | 31st December (TARGETS) |
| HIVE | 721 | 730 | 742 | 800 |
| INDEX | 989 | 1,080 | 1,094 | 1,100 |
| CTP | 36,130 | 36,398 | 36,554 | 40,000 |
| CTPM | 220 | 220 | 222 | 225 |
| CTPSB | 190 | 190 | 190 | 200 |
| LEO | 34 | 40 | 40 | 40 |
| LEN | 38 | 40 | 42 | 40 |
| LENM | 7 | 7 | 7 | 10 |
| ALIVE | 650 | 727 | 811 | (700) 1000 |
| POB | 0 | 0 | 2 | 100 |
| FreeBitcoin Satoshi | 966,441 | 1,154,777 | 1,157,152 | (1,100,000) 1,250,000 |
| MAGMarkets Fund | $524 | $480* | $641* | $650 |
*total balance + realized profit – unrealized profit.
Hello Proof Of Brain! (POB)
Since I often use the #proofofbrain tag for my blog posts I think it is only right that I start to accumulate and stake some POB tokens, especially as the Proof Of Brain project is part of the INDEX portfolio.
So I have staked some miniscule amount of POB and it is already giving my upvote a little bit of payout on the POB blogging platform. I intend to keep staking the POB I earn from INDEX as well as from my curation efforts.
Let's see if I can speed up the rate of growth and get to three figures on my POB holdings by the end of the year!
Upgrading Year End Targets..?
I said in the video that I would upgrade some of my year-end accumulation targets, including my HIVE target. I mentioned that I'd found a way to increase the amount of HIVE my blog posts were earning. The "secret" is that I have started using Pinmapple to pin any blog post with a geographic reference to the Pinmapple map.
However, I will desist from upgrading my HIVE target just yet.
Two targets that I have upgraded are ones that have already been achieved, that is, my ALIVE and FreeBitcoin Satoshi targets.
ALIVE: I'm upgrading my year end target from 700 to 1,000 tokens because the rate at which I am accumulating ALIVE is increasing as I stake more tokens and reference #alive in more of my blog posts.
FreeBitcoin I'm upgrading my BTC accumulation target on this platform from the 1,100,000 satoshi that I've already hit, to 1,250,000. In the video I said that it would be great to end the year with 1,500,000 satoshi, but I think that is a tad ambitious at the present rate of growth.
Good News From MagMarkets
The funds in the MagMarkets trading platform have nicely recovered from last week's drawdown and gone back into profit almost hitting my year-end target in just a few days.
If the trend continues the year-end target could be beaten by as much as 20%…
Closing in on my INDEX Target…
I continued to make good progress in accumulating 14 INDEX tokens, bringing me just six tokens short of hitting my year-end target. I expect to get there sometime in the middle of December.
The Struggle for More CTP & CTPM
Growth has been slow for my stash of CTP tokens, but I remain confident that I will hit the year-end target by increasing productivity in blogging, commenting and upvoting on the CTPTalk platform.
As for CTPM, the CTP mining token, I was able to buy two more this week and it should be relatively easy to get three more in the next forty days or so to hit my target before the end of December.
Anyway, that's all for now, and all very promising.
All the best,
David Hurley
#InspiredFocus
P. S. Not sure where to start on the Hive blockchain? That's where the Hive Guide can help! Download your free copy today!

---