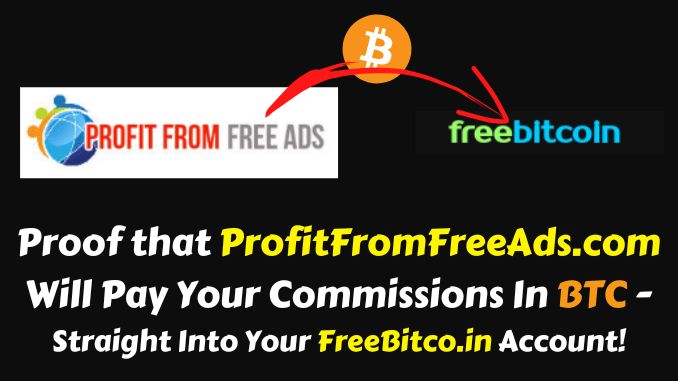 A few months ago I purchased five ad packs inside the advertising platform ProfitFromFreeAds.com which is one of several advertising sites owned by Jane Mark and Phil Basten.
I made ProfitFromFreeAds my "Primary Business" offer inside ProsperityMarketingSystem which is just about the only place where I promote the site.
A few days ago I checked my PFFA account and saw that I had earned $76 in commissions. Jane Mark had told me when I was checking out the program that one payment option was Bitcoin. That was what prompted me to join the program. So now I decided to test whether or not I'd really get paid in BTC…
If you want to receive your PFFA commission in Bitcoin you have to send in a support ticket. That's what I did, and the next day Jane sent me an email requesting my BTC wallet address.
I sent her the deposit address for my FreeBitco.in account.
So did I get paid?
Check this video to find out!
Commission Received – In Bitcoin!
I guess you can tell from the title of the video that I did indeed receive my commission as a Bitcoin payment and that it was successfully deposited directly into my Freebitcoin account as I requested.
As soon as the commission landed in my FreeBitcoin account it began to earn interest. However, I used it to buy FUN tokens on the Freebitcoin site, which I locked away for one year to boost the interest rate to 25%.
I was impressed with how promptly my request for a commission payment was dealt with, and how well Jane Mark and Phil Baston kept me informed every step of the way.
So, in short, I am pleased to be able to recommend ProfitFromFreeAds not only as a platform on which to promote your offers, but also as a site that you can trust to pay out your commissions when you request them.
David Hurley
#inspiredfocus