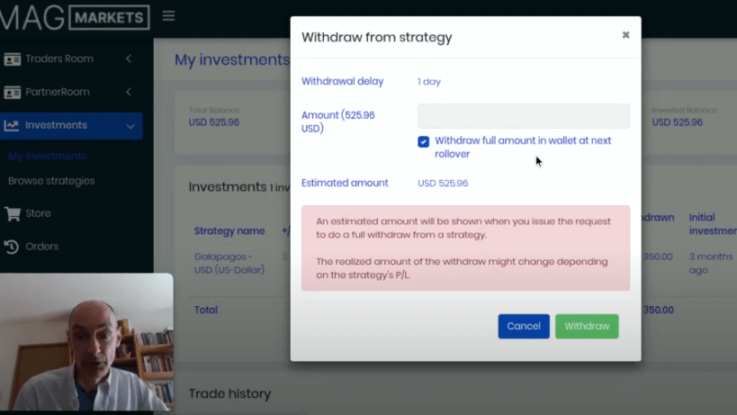 In this video I explain how to withdraw your funds from your trading account on the MAGMarkets passive trading platform. It's not obvious, but it's easy to do when you know how!
I also show a nominal withdrawal I made to test the system.
Video Transcript
Hello folks, this is David Hurley of DavidHurley.net, and in this video I'm going to show you how to withdraw funds from the MAGMarkets trading platform.
At first sight it's not obvious how you do it, but when you know how it's actually very easy, very straightforward, so that's what I'm going to show you in this video.
When you log in you are taken directly to your Trader Dashboard and you get an overview of your wallet status and your Investment Account status.
If you're like me and you've actually invested the funds from your wallet to an investment account, one or two of the investment accounts, it's the Investment Account panel that you'll want to look at to get those funds out. Click the View button in the Investment Account panel and that takes you to a detailed page about your investments and also recent trade history if you want to check out what's been going on with the investments.
To withdraw, it's this panel here that you want to look at, and over here on the far right is a little circle with three dots in it. Click that circle and then click the Withdraw link and a new panel pops up. And now you've got a choice of either withdrawing a fixed amount of your choice -and leaving some funds in – or click the little check box to withdraw the complete balance – the full amount – at the next rollover.
The only thing about this is that you don't know exactly how much you'll be getting. It shows you an estimated amount because the realized amount of the withdrawal might be different depending on the profit or lost made – the profits generated or the losses accrued – during the day's trading while we're waiting for everything to be closed out and the rollover to happen, so this is just an estimated amount.
Anyway whichever option you choose, whether to withdraw a partial amount or the full balance, after entering the details there you will then click the green Withdraw button. I'm not going to do that because I want my funds to keep working for me in the Investment Account. But, once you do that, a day or so later, your funds will appear in your MAGMarkets wallet over on this panel here.
Once you have your funds in your wallet you can click this blue button to withdraw them. And again, another panel will pop up and you can then withdraw your funds to the account from which they came when you deposited your funds into the MAGMarkets trading platform.
So, does it actually work?
I can show you an example of a token withdrawal I made simply to test whether or not you actually get your funds. To look at your transactions, come down here to Transactions and you will see the movements of your funds. And so you can see I deposited some funds. I moved my funds into investment accounts.
And up here I withdrew some Bitcoin – when was that? On the 8th October 2021. A token fifty dollars! I don't recommend that you withdraw such a small amount unless you are just testing the system because much of that will be eaten up in fees.
There's a 20 euro withdrawal fee from the MAGMarkets trading platform plus there'll be some fees taken out as your funds move out of MAGMarkets and through to the account you are sending them to. But I can show you that this withdrawal actually worked because I sent my funds to my FreeBitcoin account.
And remember, it was 8th of October 2021, and here is 8th of October 2021. It's this transaction here where my funds arrived in my account. Now 30,087 satoshi was only about $20 or so, so about $30 was taken out in fees, but I was very pleased to see this come in here. It shows me that the withdrawal process is very straightforward and it happened without any problems at all.
Set up a MAGMarkets trading account @ https://live.magmarkets.com/signup/Hz1ZZnsM
David Hurley