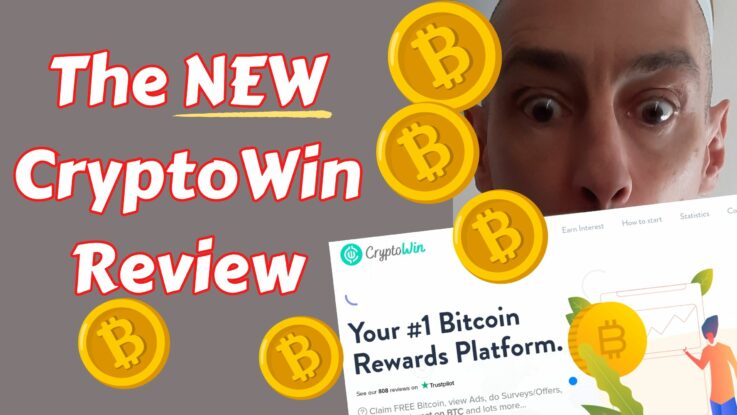 If you are looking for a Bitcoin faucet that is easy to use and offers excellent earning potential, then CryptoWin.io is worth checking out.
The CryptoWin website has just been updated and there have been some nice improvements. In this video I show you the new website and take you through what you can do on CryptoWin to earn yourself some more free Satoshi.
Faucet: Claim Free Satoshi Every 15 Minutes
The first thing you can do, once every 15 minutes, is claim some satoshi. You'll get between one and seven Satoshi every time.
Revenue Share: Earn 0.7% per day
Your first goal should be to accumulate 1,000 satoshi on the site. Once you have 1,000 satoshi you can buy one "revenue share." Each share earns 0.7% per day for 180 days, so you get back 1,259 Satoshi for every 1,000 Satoshi that you put in. In other words, you make a 25.9% profit on every 1,000 sats you put in.
Note: This is not investment advice and I do not recommend that you put any of your hard-earned money at risk on crypto faucets.
My approach is to transfer satoshi from other crypto faucets to get my first few revenue shares going, and then, once I'm earning around 1,000 sats a day, to accumulate the profits and withdraw a bit more than I put in so that I can reduce my exposure to zero as soon as possible.
New Dashboard Layout
The CryptoWin dashboard has been updated. One important change is the separation of the account "Balance" from the "Purchase Balance." Your on-site earnings accumulate in your account Balance, and that is where your deposits will show up as well. If you want to purchase a revenue share or advertising, you need to transfer satoshi across from your account Balance to your Purchase Balance. It is very easy to do, as I show in the video.
Other Options
Something else you can do to earn some Satoshi is click some PTC ads. There aren't many PTC ads at the moment and they typically run for ten seconds and earn you two satoshi a pop.
There's also an Offer Wall where I guess you can get paid to perform various tasks. I say "I guess" because I haven't been able to check it out yet. That's because you can only use the Offer Wall after you have withdrawn at least 300 satoshi. I have not yet made a withdrawal, which is why I can't tell you any more about the Offer Wall (and anyway, it's not a service I'm likely to use).
Lastly, there is a Hi-Lo gambling game which offers a 47.50 of winning. Again, that is not something I am interested in doing, but good luck to you if you want to give it a try.
Affiliate Program
Another way to earn with CryptoWin is through the affiliate program. You earn from your referrals' activities as follows:
50% on Faucet earnings
35% on PTC ad earnings
10% on Offer Wall earnings
1% on Revenue Share earnings
Buy Advertising
The new version of CryptoWin has integrated their advertising service into the website. There is now an advertising page where you can set up ads within the site. You don't have to go to a separate place to set up ads, and the ads are pretty cheap. You need to spend at least 0.02 of a Bitcoin, which is about five or six dollars at today's prices, and the cost per click is four SATs. It looks like you get a thousand clicks and your ad shows for 10 seconds unless you choose a longer duration for a higher price.
I haven't tried the advertising service yet, but I think it's cheap enough for a punt if you have a crypto-related offer to promote.
So that's the state of play with CryptoWin. Overall, I like what CryptoWin offers, which for me are the revenue share.
David Hurley
P. S. CryptoWin is free to join and you can immediately start earning satoshi. Join Crypto Win free today!