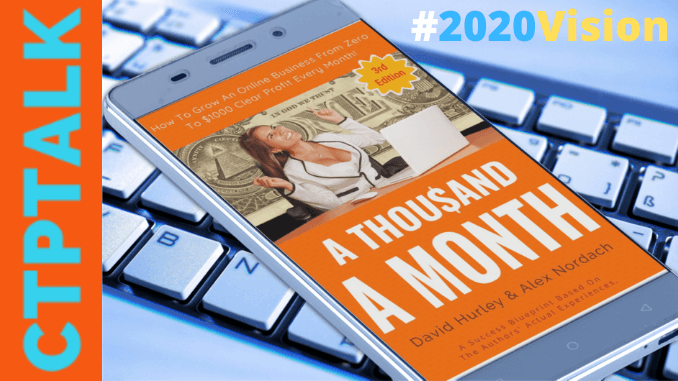 For this "conceptual" #2020Vision Challenge I report on my experience self publishing a book on Amazon.
That's one of the things that kept me busy most of last week. I was editing, rewriting and updating the 3rd edition of A Thousand A Month: How To Grow An Online Business From Zero To $1,000 Clear Profit Every Month, by David Hurley and Alex Nordach. Check out the video for more about both the #2020Vision and how the idea behind the book:
A Thousand A Month, by David Hurley and Alex Nordach
The book is draws on two case studies based on the authors' actual experiences. We lay out everything that contributed to our respective successes and explain clearly what worked for us and what didn't work. We provide clear advice and resources for you to follow our steps to building up to your first $1,000 a month profit – and how to sustain and grow your online income after that. First, get from zero to $1,000 a month.
Available on Amazon at: https://amzn.to/2QFDKMW
Note: Kindle Unlimited subscribers can read it free!
31/61 #2020Vision challenges completed! Can I get the next 30 challenges done before Easter??
#2020Vision is part of the ClickTrackProfit community on https://ctptalk.com
Join our ClickTrackProfit community and learn how to get paid to publish content such as this on the Hive blockchain: 
https://clicktrackprofit.com/hirohurl
Thanks to @pixiepost for creating the #2020vision following the example of #actifit !!
David Hurley
#InspiredFocus