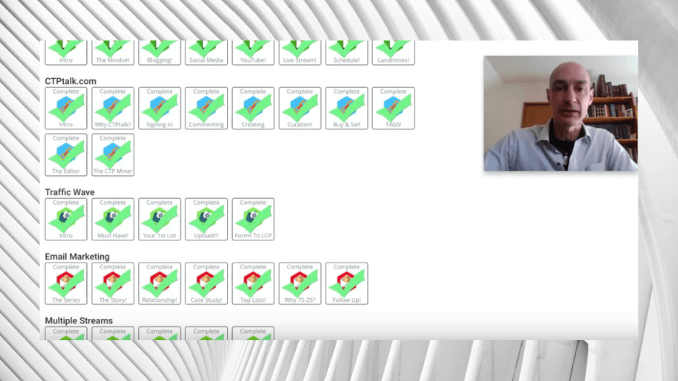 This video is part of my Beginners Crypto Training Email Letter Series. In the video I show you where you can learn how to earn with Steem and also with ClickTrackProfit's own CTP Token, and CTPTalk.com which is built onto the Hive blockchain.
(NOTE: In the video I refer to Steem. Since then, the CTP community moved to the newer Hive blockchain.)
One way to earn with Steem is to work with CTP Tokens on the CTP Talk blogging platform. In the video, I introduce the blog https://ctptalk.com/@hirohurl where I get paid in CTP Tokens for posting content.
CTP Tokens can be traded for Hive, which in turn can be traded for other cryptocurrencies or for fiat currences such as the US$.
Video Transcript (UPDATE: Replace "Steem" with "Hive" – There was a fork and we moved to the Hive blockchain!)
Hello Folks,
This is David Hurley of DavidHurley.net.
I'm making this video for subscribers to my Beginners Crypto Training Course. You can sign up to it through this opt-in form on my website, DavidHurley.net. It will teach you how you can start making money with crypto currencies, and to start earning with crypto currencies from Day 1 of my course without any investment at all.
This Video Is About Learning How To Earn With Steem
This video is made for the second part of the course where I have started talking about a different crypto currency called Steem, which is – just like Bitcoin – one of the top 100 coins.
You can check it out on CoinMarketCap.com – We have Bitcoin at number 1. Steem is – as I make this video – the 59th of the top 100 crypto currencies. Here we go, 59, just down here. Here is Steem.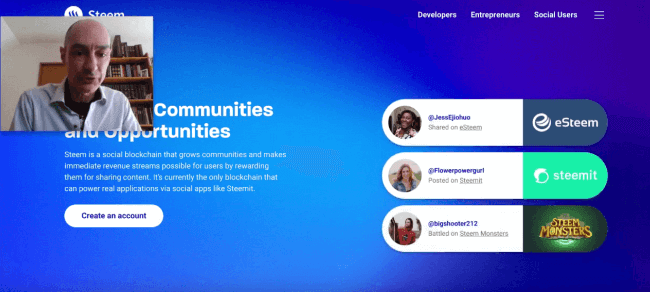 Steem is a very special crypto currency because it has been made with social media marketing in mind. Steem – this is the Steem website –
Steem is a social blockchain that grows communities and makes immediate revenue streams possible for users by rewarding them for sharing content. It's currently the only blockchain that can power real applications via social apps like Steemit.

Steem.com
Get Paid for Posting and Curating Content
You can use a platform such as Steemit, or other platforms such as D.Tube, to create content, effectively to set up a free blog and to get paid every time you post content on that blog, or to post videos on D.Tube and to get paid when those videos are upvoted or commented on.
You can get paid for sharing content. You can get paid for commenting on other people's content. And you can even get paid for curating, or upvoting, content that you like.
Imagine If Facebook Paid You To "Like" Stuff!
Imagine that if you were on Facebook and every time you liked somebody's post you earned a small bit of a Facebook crypto token or crypto currency.
Well, that's what happens when you are on the Steem blockchain; you earn small amounts of Steem – or it can be, actually, quite large amounts of Steem, depending on how much curating and how much activity you have engaged in and how long you've been doing that for.
You Can Earn With Steem – Even From The Very Beginning
But even from the very beginning you can earn small amounts of crypto currency simply by doing what you may well be doing every day on other social media forums.
Getting To The Point Of This Video
Now, the point of this video is to show you where you can get some very good training about Steem and also about a crypto currency that is built on top of Steem by ClickTrackProfit.
So, let's come over to ClickTrackProfit. If you've been following my series you will already have read a little bit about ClickTrackProfit once we get into the second part of the course.
I've just logged in. Let me log out and I'll log in again to ClickTrackProfit because I want to show you where you can get some very good training about the Steem blockchain and how to use it in relation to ClickTrackProfit.
So we just log in and we will come to the training area here. Now, ClickTrackProfit is free to join and many of the lessons are available for free members. More lessons are available for upgraded members, but I believe you get the essential training (as free members).
Short, Easy-To-Watch Video Training
So this is the training page and all these tutorials are short videos, so it is very easy to consume and engage with this training system. And if we come down a little bit further – Oh, actually, the first one is here – Here we go "Click." ClickTrackProfit – how to get more clicks to your offers.
One way is to use the Steem blockchain. Now, I won't play this video because it is for members, but if you join ClickTrackProfit – it's free to join – then, once you're on the inside, go to Training. Click "Lessons." And you'll have to work your way through the "Click" module, but these are only 5 or 10 minute videos so it won't take you very long to learn about Twitter, Facebook, Instagram, YouTube, how to use them as an Internet marketer.
And then, Steem. And you'll begin to learn about Steem through this video here. And then, as you come down through, you'll also start learning about ClickTrackProfit's own blog that is built on the Steem blockchain. And that is CTPTalk.com.
Introducing CTPTalk.com
Let me just show you my own blog over there https://ctptalk.com/@hirohurl – it's this one here. This is my own blog on the CTP part of the Steem blockchain… er, if we are going to get through to it. Yes we are. Okay, here we go. And so this is where I post blogs and I get paid in CTP Tokens.
This will resolve in a moment and it will show earnings. Here we go. So, I've earned 126 CTP Tokens. Now CTP Tokens are powered by the Steem blockchain. And you can exchange CTP Tokens for Steem. And Steem you can exchange for any other crypto currency or for fiat currency if you wish. So these are real earnings that are coming in here, just for posting a blog I've earned over 100 CTP Tokens.
The Price Of CTP Tokens and Steem Varies…
Now, it's a free market so the price of CTP Tokens in relation to Steem goes up and down depending on demand. And the price of Steem goes up and down depending on the situation out in the world of crypto currencies.
So here I've earned 193 CTP Tokens. Seventy-odd, 137 … it varies depending on how many people vote for my content.
CTP Token And CTP Talk Training
Now the CTP Token itself has quite a bit of training available in the ClickTrackProfit training area. So I would advise you to go right through the CTPTalk.com training series.
And then if we come down here we'll also find we've got the crypto training series here. And so that will give you all the information you need to know in small digestible chunks.
Jon Olsen is the guy who presents most of those videos and he's pretty much an expert when it comes to Steem and he's certainly an expert when it comes to ClickTrackProfit's engagement with Steem.
So, rather than me blathering on, I recommend that you join ClickTrackProfit – sign up free – and get training and learn how you can start earning real crypto currency simply by posting content. It could be in blog form, or video, or you could even import YouTube videos and you can even earn from those.
Or, if you're still a bit nervous about posting your own content you can simply earn by commenting on other people's content and on upvoting that content.
So I strongly recommend that you get involved with ClickTrackProfit and start earning some more crypto currency in this way.
My Beginners Crypto Course So Far…
So, in my course I've talked about how you can earn from Bitcoin faucets and alt-coin faucets. And I've also talked about other crypto advertising sites where you can earn crypto for checking people's ads. But now we're looking at how you can earn money from blogging and regular social media activities channelled through CTP Talk and the Steem eco-system.
And for some extra informaton I've posted this on my blog, DavidHurley.net, this information about how to use CTP Talk and never pay out of pocket for an affiliate marketing product again: https://davidhurley.net/how-to-use-the-ctptalk-blogging-platform-to-cover-all-your-internet-marketing-costs/
Exciting Stuff! It's Never Been Easier For Beginners To Earn
This is exciting stuff, folks. The blockchain, crypto currency, and crypto currencies such as Steem and CTP Token are changing the way that we can make money on the Internet, and are actually making it much easier for us to do. Ordinary people can start today and be earning money before they go to bed.
Anyway, so I hope that is helpful. That's all from me for today, David Hurley of DavidHurley.net – and if you're interested in the idea of earning crypto currency without having to invest lots of mula – or any mula at all – just pop over to DavidHurley.net put your name and email address in the form here and click the button.
Read more about how to earn with CTP Talk in this blog post: https://davidhurley.net/how-to-use-the-ctptalk-blogging-platform-to-cover-all-your-internet-marketing-costs/
Join our ClickTrackProfit community and learn how to get paid to publish content such as this on the Steem blockchain: https://clicktrackprofit.com/hirohurl
David Hurley
#InspiredFocus