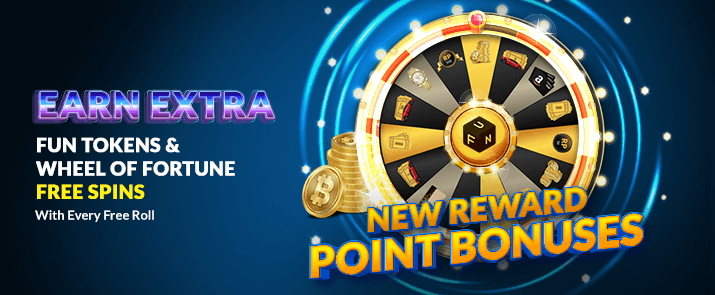 In October 2021 FreeBitco.in introduced a new Reward Point Bonus. The bonus allows you to earn up to 5 FUN Tokens per hour with the Free Roll button. That is in addition to the Satoshi and Reward Points that each Free Roll earns for you. Watch the video to find out more, or scroll down to read the rest of the article:
How To Claim The FUN Token Bonus
As I demonstrate in the video, it is easy to claim the FUN Token Bonus. Simply log in to FreeBitco.in and go to the Rewards page. Then scroll down and click on the blue "FUN TOKENS BONUS" tab. In the dropdown menu you will be able to select the number of FUN tokens you want to claim per hour (depending on how many Reward Points you have available, or wish to use, to claim your bonus). Click the "REDEEM" button and a green confirmation tab will show you the transaction details. Now you will earn FUN Tokens every time you click the hourly Free Roll button during the next 24 hours.
Why Would You Want To Earn FUN Tokens?
Here's why you might want to own some FUN tokens:
FUN is a unique crypto-currency that is listed on major crypto exchanges. It's use-case is designed to create smooth and swift online gambling transactions. It is owned by Freebitcoin. (Check https://funtoken.io/ for more info about the token.)
Owning FUN tokens is how you can get PREMIUM membership status on Freebitcoin. Premium members can earn more satoshi and RP, get more Wheel of Fortune rolls every day, and earn higher interest rates on your satoshi.
You can lock your FUN tokens away and earn up to 25% per year interest on them – right on the Freebitcoin platform. (I have over 50,000 FUN tokens locked up on Freebitcoin and earning me that juicy 25% interest!)
Another point to consider is that the more FUN Tokens you hold the better your Premium Membership Benefits become, and the higher your chances of winning some of the high-end prizes on the Wheel of Fortune, such as that Rolex watch, an iPhone, Amazon vouchers, and Golden Tickets for the Lamborghini prize draw.
You Can Stack Your FreeBitcoin Bonuses
One thing I didn't mention in the video is that you can stack several different bonuses and earn them all at the same time.
For example, if you have accumulated enough Reward Points you could use them to boost your Satoshi earnings with the Free Roll button, AND at the same time you can also earn those FUN tokens, AND also earn extra spins on the Wheel of Fortune each hour!
That is exactly what I am doing on FreeBitcoin today! I have stacked three bonuses together to give my hourly earnings on my Free Roll clicks a massive boost! Check out the green panels in the screenshot below:
Not yet earning free satoshi with Freebitcoin? Get Your FREE FreeBitco.in account here!
David Hurley
#InspiredFocus
P. S. Subscribe to my FREE Beginners Crypto Course for more free crypto earning tips!