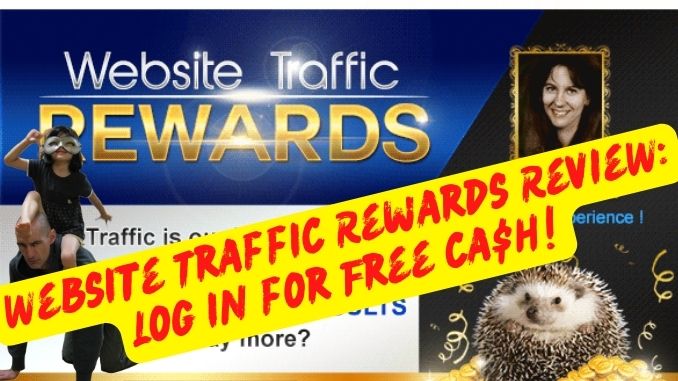 WebsiteTrafficRewards is one of several safelists run by Marty Petrizza. Her safelists have a good reputation in the industry and each one has something special to offer marketers.
WebsiteTrafficRewards is no exception, as I have been finding out over the last few months. The special attraction of WebsiteTrafficRewards is the cash rewards that you can earn by logging in and surfing ads on the site.
Get Paid To Log In!
Did you know that free members earn $0.10 a day simply by logging in? Gold members earn double that – $0.20 – to log in each day. That adds up to $6 a month.
In the video I show you how easy it is to get paid, and what you can do as your earnings accumulate:
My "Free" Gold Upgrade
I started to log in regularly in April 2023. Sure, I missed a few days here and there, but I was able to accumulate enough cash as a free member to upgrade to Gold ($9 a month) in August, as the screenshot below shows: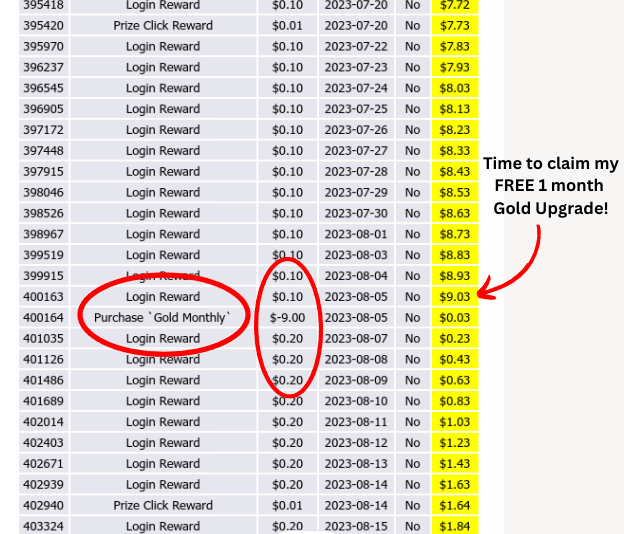 One More Way To Earn!
One thing I neglected to mention in the video is that you can increase your earnings by meeting the weekly "Click Qualifier" targets. As you can see in the screenshot below, you can earn banner and text link views, but also cash rewards from $0.10 to $1.00. Very nice indeed! (Of course, you will also be earning credits per click, at the rate of 15 per page view for free members, and 30 per page view for Gold members.)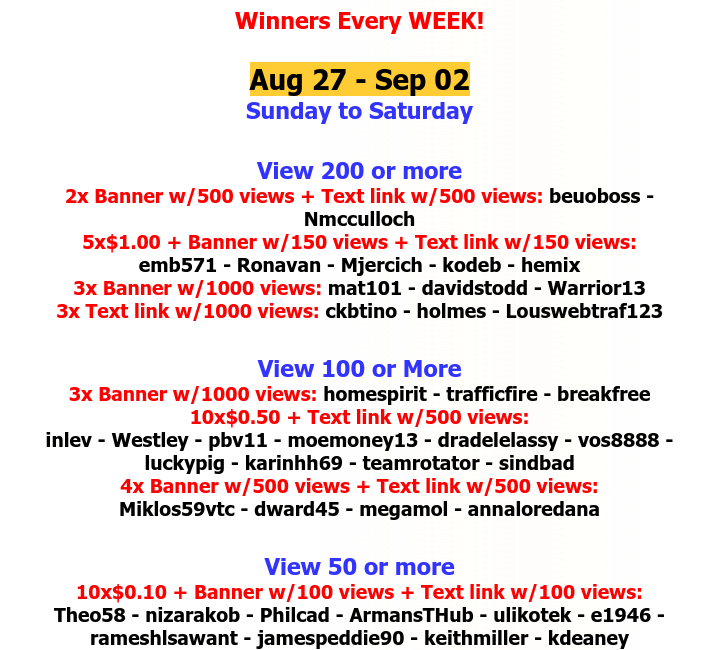 Lifetime Gold Membership
I'm saving my pennies and will grab the Gold Lifetime membership as soon as as I have accumulated enough cash from login rewards, surfing prizes, and affiliate commissions. The Gold Lifetime costs $87 and I've worked out that you can break even in your second year if your only earnings on the site come from logging in every day. You will be in profit much faster if you win some of those other surfing prizes and earn some upgrade commissions from your referrals.
Get Paid In Bitcoin
One more thing: Marty offers several ways for you to claim your on-site earnings. For me the best option is of course payment in Bitcoin. Apart from the traffic that this site delivers, it can also help you grow your Bitcoin stash and provide the investment for another trading bot on Bybit (but that is another story)!
Cheers, and happy surfing!
David Hurley
#InspiredFocus
P. S. Here's my affiliate link:
https://websitetrafficrewards.com/?r=hirohurl
Use the Promo Code "myreward" for a free welcome package of ad credits.
Plus, when I see you in my downline, I'll send you 200 mailing credits to get you started. 🙂