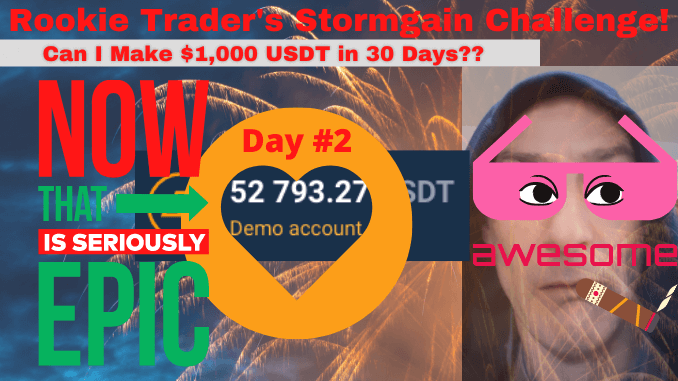 Today was my second day of trading on the Stormgain crypto trading site. Bitcoin was down from yesterday's $34,000+ high. In fact it had dropped over $2000 when I checked in.
However, the CryptoIndex10 was up on the back of alt coins all moving upwards as if in a negative correlation to Bitcoin.
Ethereum was especially bullish and all my trades today were Ethereum/USDT trades.
So How did I do? Not too badly! Check out the video for full details!
In my first trade I lost $100 and in another trade I lost $150, but in the end I finished over $2600 to the good!
In the first losing trade I felt that the market was due a correction, but it kept going. I had forgotten yesterday's nugget about respecting the prevailing direction of the market. Even so, later on when Ethereum dipped I did make small amounts of profit on the dips.
Trading By The Seat Of My Pants…
The trade that yielded the big (for me at this stage) profits was a long $500 with 30x leverage. However, just after I set it, the market seemed set to plunge, so it really was a seat of the pants ride. I did not set a stop-loss and instead I checked the auto-invest option that automatically puts more of your capital into a position if it seems at risk of closing out in the red. It is a highly risky tactic, but the bullish sentiment towards Ethereum was strong enough to see it home.
Here's a screenshot of my successful trades that cover this and the previous blog post:

I think it was pure luck rather than analysis that got me there because at one point I was over $6000 in negative territory.
Come along for the ride as I try to learn how to trade my way to a profit!
If you are an experienced trader, any advice would be welcome. Let me know where I'm going wrong, or post some tips in the comments below.
Check out Stormgain at: https://fwd.cx/WmUzkey5BqVp
Looking for a safer way to accumulate and store bitcoin? This is what I use: https://freebitco.in/?r=37315680
David Hurley
#InspiredFocus
Disclaimer: I am not a financial advisor and this is certainly not financial advice. These are simply the musings of a rookie trader playing with pretend money…