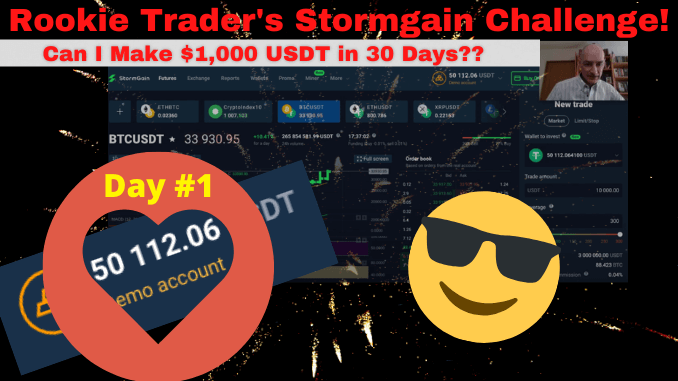 Today was my first day of trading my $50,000 USDT Demo Account on Stormgain. My goal is to make a $1000 USDT profit over a period of 30 days trading as a complete "rookie trader."
Here's the result:
Bitcoin / USDT Trades Only
Today, I stuck entirely with Bitcoin/USDT trades. It was shortish session in which I managed to finish ahead in all three of the trades I executed.
I had also set a short trade up a few pips below the Moving Average line, but it was not executed so I cancelled it before logging out for the day. I don't want to leave it open while I'm asleep, only to have it activated on a brief dip after which Bitcoin zooms towards new record highs, wiping out my profits for the day!
Short Term Trades Only
So, as I lack experience in setting up longer term trades, I'm going to play a quicky-dippy-catchy-fishy game for now. All I can say is that it worked for me today.
I checked the state of the market before setting my first long trade. I did that by looking at the chart for CryptoIndex10 on Stormgain. It showed that the market was treading water. Basically, most of the cryptos on the index were moving down while Bitcoin was skyrocketing. So I thought my best bet would be to go with the market whenever a good opportunity for a quick gain suggested itself.
To do that, I watched the candlesticks in relation to the Moving Average and compared that data to the MACD, Stochastic and RSI indices, based on some "YouTube research" that I've been doing over the last three days or so.
Analysis, Or Luck?
Whether the analysis worked, or whether (more likely) it was just the luck of going with the flow of the Bitcoin bull run, I finished the day on a nice little profit of around $112. That included an $11 profit on a very brief reversal when the charts suggested a short dip was immanent.
Okay, so the first day of trading has been a success and puts me ahead of the game. To Earn $1000 by the end of January, I need to make around $35 per day.
Onwards, and I hope, upwards!
All the best,
David Hurley
#InspiredFocus
P. S. Feel free to post your comment, insights, tips, advice, suggestions and so forth in the comments below. How would you have traded on Stormgain today?
Come along for the ride as I try to learn how to trade my way to a profit!
If you are an experienced trader, any advice would be welcome. Let me know where I'm going wrong, or post some tips in the comments below.
Check out Stormgain at: https://fwd.cx/WmUzkey5BqVp
Looking for a safer way to accumulate and store bitcoin?
This is what I use: https://freebitco.in/?r=37315680
Disclaimer: I am not a financial advisor and this is certainly not financial advice. Simply the musings of a rookie trader playing with pretend money…