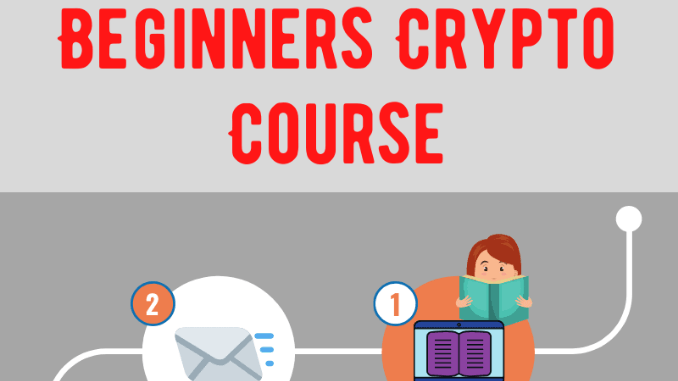 Here's an infographic I created to show you what my "Zero to Hero" Beginners Crypto Course is all about.
Who is the course for? It is specifically for people who have little or no experience of working with Bitcoin or any other cryptocurrencies and who have little or no money to invest in crypto.
Here Are the 8 Stages of the Course
Stage 1: Opt in and receive a free ebook. (Actually, the ebook is not ready yet! This course is very new! I will send the ebook to subscribers as soon as I finish writing it…)
Stage 2: Once you have confirmed your subscription, you will receive one email message a day for 30 days taking you through the 6 stages from "zero" ? to "crypto superhero" ?!
Stage 3: You will learn how to start earning small amounts of Bitcoin (called "satoshi") from Day 1. It is very easy to get started.
Stage 4: Discover how you can steadily earn more and more satoshi day by day. This is the most challenging period because you need grit to get into the habit of sticking with it every day. Stick with it and your earnings will grow with increasing momentum.
Stage 5: Learn how to move and store your Bitcoin for maximum convenience AND security, and for minimum or zero cost. This is where we set up a couple of Bitcoin wallets and prepare for the faster moving growth stages…
Stage 6: Let's speed things up by learning how to grow a team of referrals and earn 50% commissions on their crypto earnings.
Stage 7: Discover other ways to earn cryptocurrency through social media activities such as blogging, video creation, commenting on and "liking" other people's content.
Stage 8: Once you have accumulated enough crypto "seed money" ($10-$15 is enough), you are ready to jump into the final stage of the course and learn how to leverage your Bitcoin and put the power of compound profits to work to build job-replacement levels of income.
Check out the infographic below for a graphic presentation of the course, and if you like what you see, opt in for free by filling in the form just below it: