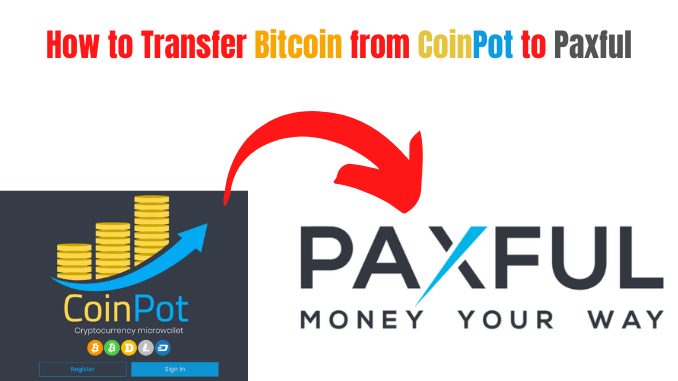 [NOTE: Coinpot and its associated faucets closed down a few months after this post was published.]
Coinpot is a microwallet that automatically stores the bitcoin and altcoins you can claim from various Bitcoin faucets. Faucets are really advertising websites that pay you free Bitcoin satoshi – or free alt-coins – just for visiting the website. You click a button to claim your free crypto from the the faucets and Coinpot stores the crypto for you.
Before we look at how to transfer Bitcoin from Coinpot to your Paxful wallet, here is a list of the faucets that Coinpot works with:
Coinpot Faucets List
Bonusbitcoin – claim free Bitcoin satoshi!
Bitfun – claim free Bitcoin satoshi!
Moonbit – claim free Bitcoin satoshi!
Moondoge– claim free Dogecoin!
Moondash– claim free Dash!
Moonlite – claim free Litecoin!
Moonbitcoincash– claim free BitcoinCash!
Claim Bitcoin & Alt-Coins Several Times Per Hour
You can claim from the faucets several times every hour. You can earn some very nice bonuses for returning regularly to claim free satoshi. You will also earn 50% commissions on your referrals' earnings. So if you work the faucets every day and promote them to build a team, you will pretty quickly be earning a lot of crypto every day in your Coinpot microwallet.
In addition, Coinpot rewards you with Coinpot Tokens for achieving various goals as you collect crypto from the faucets every day. You can convert your Coinpot tokens to Bitcoin too.
Set up your free Coinpot microwallet account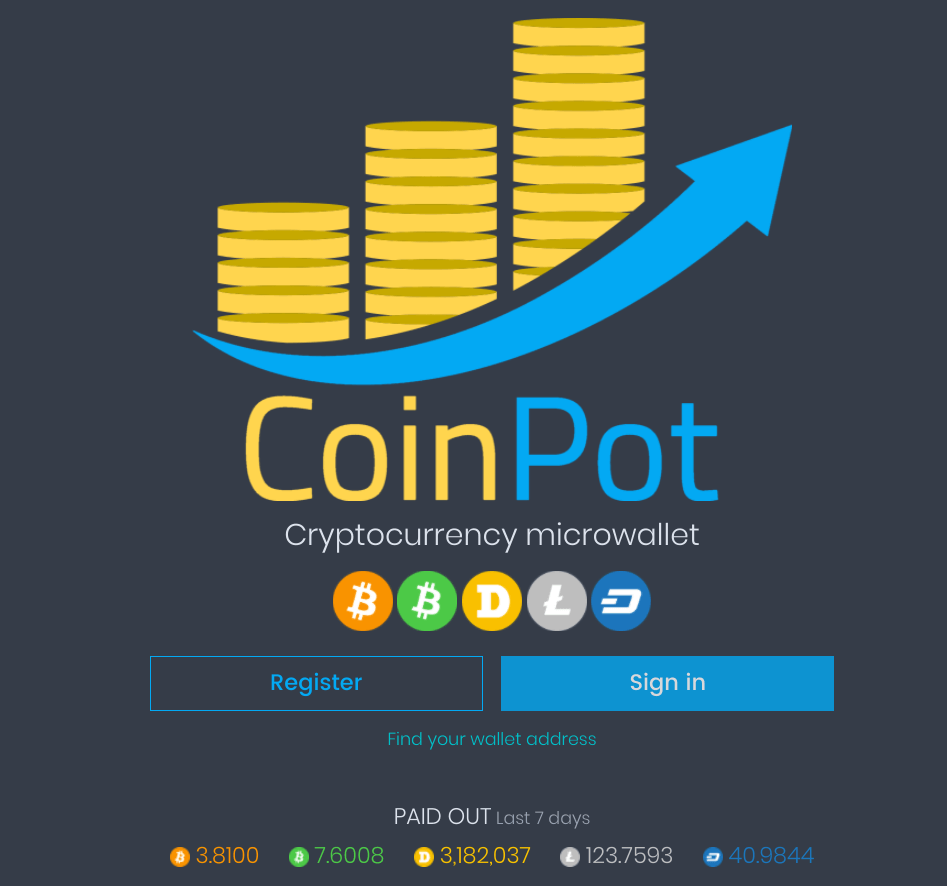 When you have 10,000 or more satoshi in your Coinpot account, you can withdraw them straight into your Paxful wallet. Even better, there are no fees for withdrawing from Coinpot to Paxful! It takes about 48 hours for the transaction to go through.
Also, it's free to set up your Paxful account and once it's set up, you can use it for all your Bitcoin transactions.
How To Transfer Bitcoin From Coinpot To Your Paxful Wallet
It is simple and easy to transfer Bitcoin from Coinpot to Paxful. Log in to your Coinpot account and go to the Dashboard. Click on the dropdown menu in the Bitcoin Core panel. Then select "Withdraw bictoin core."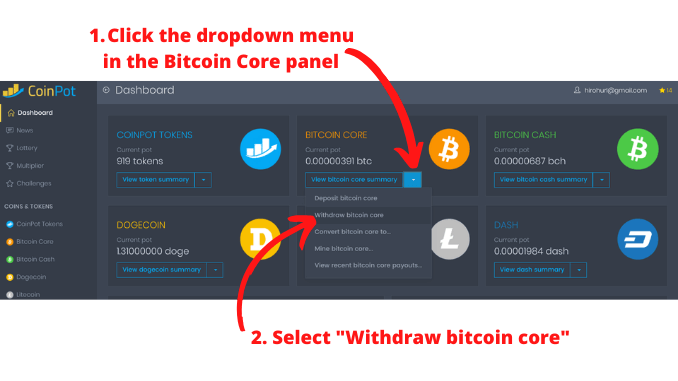 A new "Withdraw Bitcoin Core" panel will open. Enter your Paxful Bitcoin deposit address into the "Withdrawal bitcoin core address" field. Enter the amount of Bitcoin you want to withdraw in the BTC field (or click "set to maximum amount" if you want to withdraw all of it. Enter your 2FA code, check the "I'm not a robot" box and click "Withdraw."
Allow 48 hours for the transaction to be verified and the Bitcoin to arrive in your Paxful account.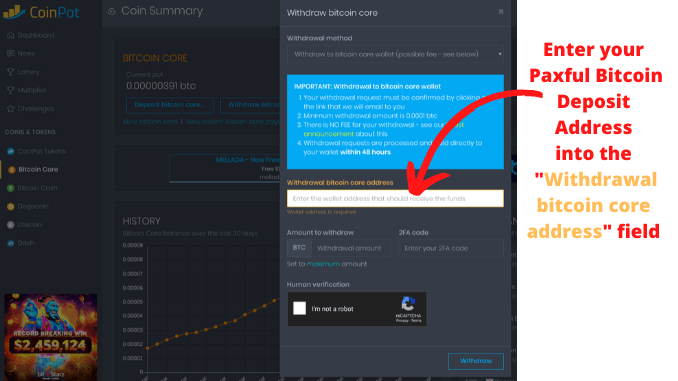 Where To Find Your Paxful Bitcoin Deposit Address
When you sign up for a free Paxful account you get a bitcoin wallet and a default Bitcoin deposit address. It looks like a long complex password with numbers and letters in a random sequence.
To deposit bitcoins to your Paxful wallet, log in to your Paxful account and click "Wallet." On the Wallet page, scroll down and you will see your Bitcoin Deposit Address. Copy the address and paste it into the Coinpot "Withdrawal bitcoin core address" field show in the previous screenshot.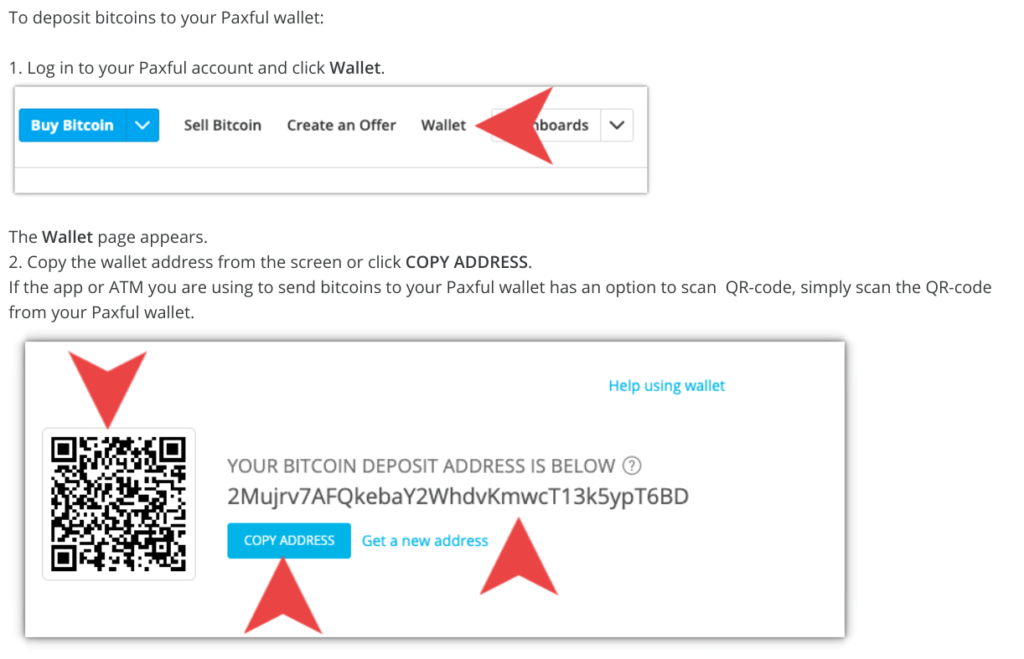 If you need any more information about how to deposit Bitcoin into your Paxful wallet go to:
https://paxful.zendesk.com/hc/en-us/articles/360013538034-Receiving-and-depositing-bitcoins
Now you know how to transfer Bitcoin from Coinpot to your Paxful wallet, you can start building up your Bitcoin stash with zero out of pocket expense.
For more tips about how to accumulate Bitcoin, enter your name and email address in the form below to receive my "Zero to Crypto Super Hero" Beginners Crypto Training email letter series.
David Hurley
#InspiredFocus