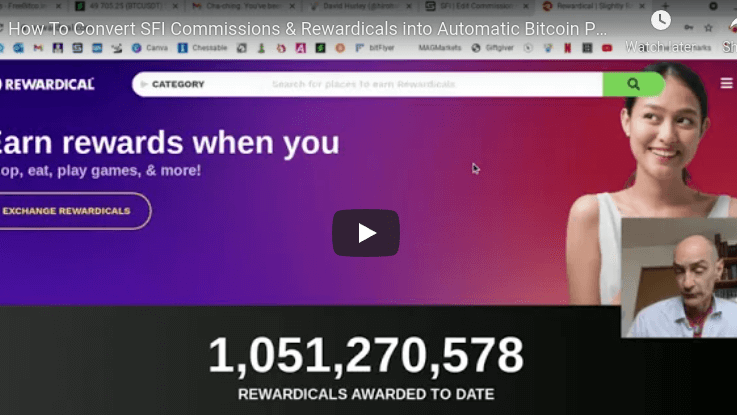 I posted a video about how you can get SFI affiliate commissions in Bitcoin.
Every month I convert my Rewardical tokens into cash, which is added to my commission total for the previous month. Then in the middle of the month SFI automatically converts my commission into Bitcoin and transfers my Bitcoin straight into my FreeBitco.in wallet.
Once the Bitcoin arrives in my FreeBitco.in wallet it automatically starts to earn 4.28% in yearly interest. The interest is paid out daily which means that you can start earning compound interest.
It's easy when you know how! Check out the video to find out how to do it:
Video Transcript
Hello folks!
This is David Hurley of davidhurley.net and the Beginners Crypto Course .
In this video I'm going to show you how I work with the SFI affiliate program to increase my Bitcoin holdings every month over on the FreeBit.con website.
So this is the main page that you come to when you log in to SFI. Nice new design. Very nicely done.
And what I do is, I assign my commissions to be paid by Bitcoin. You can do that by coming over to this tab here and coming down to "Orders and Payment Info" and "Commission Payment Options".
And on this page you can choose how you want your SFI commissions to be paid. You can let them accumulate; you can get yourself a Tripleclicks Mastercard; you can send them to Paypal; but I prefer to be paid in Bitcoin through my Bitpay wallet directly into my FreeBitco.in account. So that is what I have checked here. I set up a Bitpay account and put in my FreeBitco.in address.
Bitcoin Payments via Bitpay
And so, when the payouts are made, I now get a Bitpay email into my inbox, "Cha-ching. You've Been Paid'. This one here… August 17th, I got some commissions in: $59 worth of profits because I … pay for almost everything on SFI through my commission from the previous month, so this [$59 worth of Bitcoin] is the residue – the profit – that comes to me in my FreeBitco.in account.
So that was sent on 17th August and we can see it here arriving directly into my FreeBitco.in account. So it's a very cool way to keep you account topped up on FreeBitco.in so you can keep earning that yearly interest rate of 4.08%. I've got a nice boost here – 4.25% – because I've got FUN tokens to give me a Premium membership boost.
So that's one thing I do with SFI; I accumulate commissions and get them automatically paid into my FreeBitco.in account.
Converting Rewardical Tokens into Bitcoin Commission Payments
But there is a second thing I do which gives my profits an extra boost. And that is, I turn my Rewardical tokens – that you can earn when you work with SFI by playing games or doing other activities [such as] participating in auctions and so on, also on your downline activity; you will earn Rewardicals on your team's activity…
And so, when I get my Rewardical payments in at the beginning of each month I check out my balance – I've got 6,000 Rewardicals, just over. It's not a huge amount, but I can now cash in my Rewardicals for various goodies. I could cash them in for Bitcoin, but that involves an extra step that I don't really want to take, so instead – I'll do it right now – I'll cash in all of my Rewardical points for SFI commissions, and so that will add $8.78 worth of commission to my commission total which will then be automatically sent over to my FreeBitco.in account when this month's commission calculation for the previous month's is made.
So let's do that. Let's get it done.
How much do you want?
I want to convert all of my Rewardicals – or as many as possible – into [commission payments]. Yep, I want to spend the majority of my Rewardicals – 6,059 Rewardicals gets me $8.78 worth of crypto [i.e. of commission payments which will be automatically converted into Bitcoin when transferred to my FreeBitco.in account]; a little bit less than if I had just converted them into Bitcoin, but this is a much easier transaction. It's just one step.
I'll do this and this extra $8.78 will be added to my commission which will then be automatically be paid into my FreeBitco.in account later on in the month, aroundabout the 17th of this month I guess.
So here we go. Let's do that.
BAM! "Redemption complete! You've successfully redeemed 6,059 Rewardicals for $8.78 in commissions." Good!
Okay, that's great. So in that way I can regularly top up my FreeBitcoin account. Actually, my total has gone down as I shipped off $500 worth of crypto to another trading platform where I hope to earn a bit more on that crypto. But this is a very nice way that you can use SFI to increase your monthly crypto income – month by month!
Hope you enjoyed the video and got some useful information from it, that's all from me, David Hurley of davidhurley.net and the Beginners Crypto Course until next time.
Not yet in SFI?
Join my SFI team (free) today: https://www.sfi4.com/9613031/FREE
Cheers!
David Hurley
#InspiredFocus