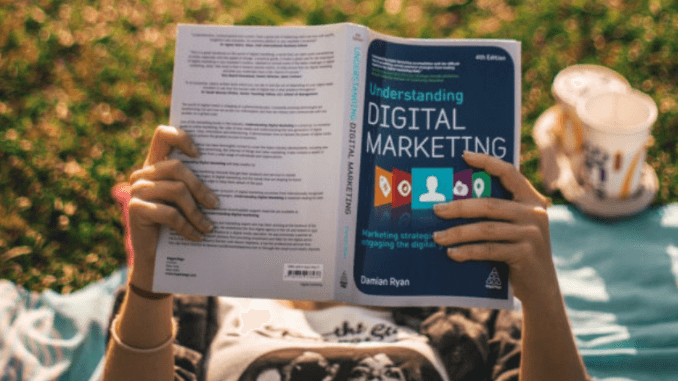 I have found the following resources to be the best ones for any body who wants to know how to learn online marketing:
1. Click Track Profit
ClickTrackProfit.com has recently relaunched and provides a series of courses split into short video presentations.
Here's a screenshot of one part of the training area: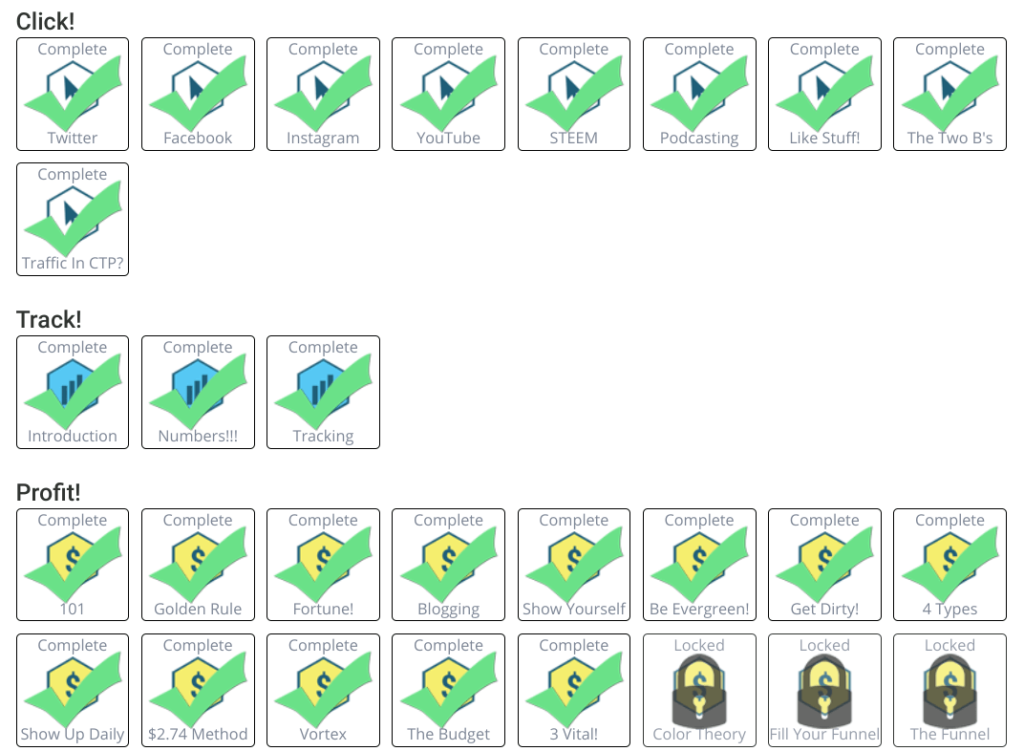 The green ticks show you which lessons you have completed. You can go back and watch the videos again any time. The site is especially good at motivating you to take action on what you learn. A lot of the training is available to free members. This is the resource I most enjoy using to improve my own online marketing skills.
2. Wealthy Affiliate
In my opinion Wealthy Affiliate is the best resource for learning online marketing skills as a business blogger.
Owning your own self-hosted blog is one of the best things you can do for your online business, and Wealthy Affiliate provides excellent training courses and live video presentations to turn you into an expert business blogger.
They also provide a high quality WordPress hosting platform which is where I host all my blogs, including this one, DavidHurley.net.
Here are a couple of screenshots of the training panel. This one shows the progress I have made: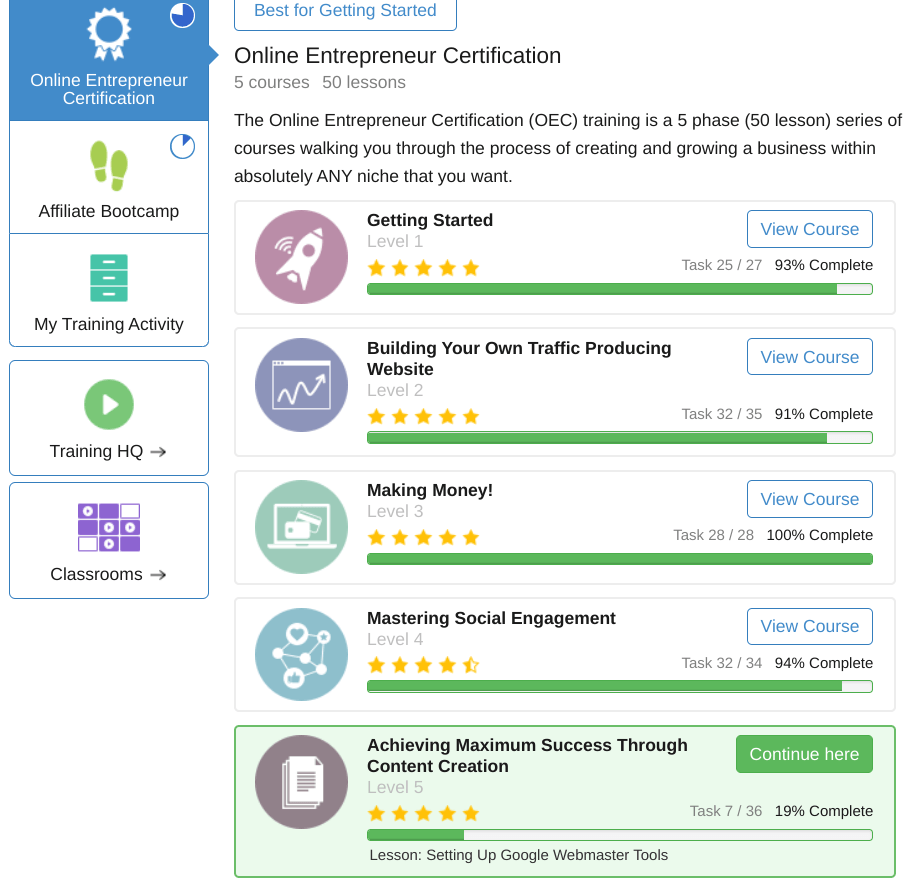 This one shows the course I am currently studying: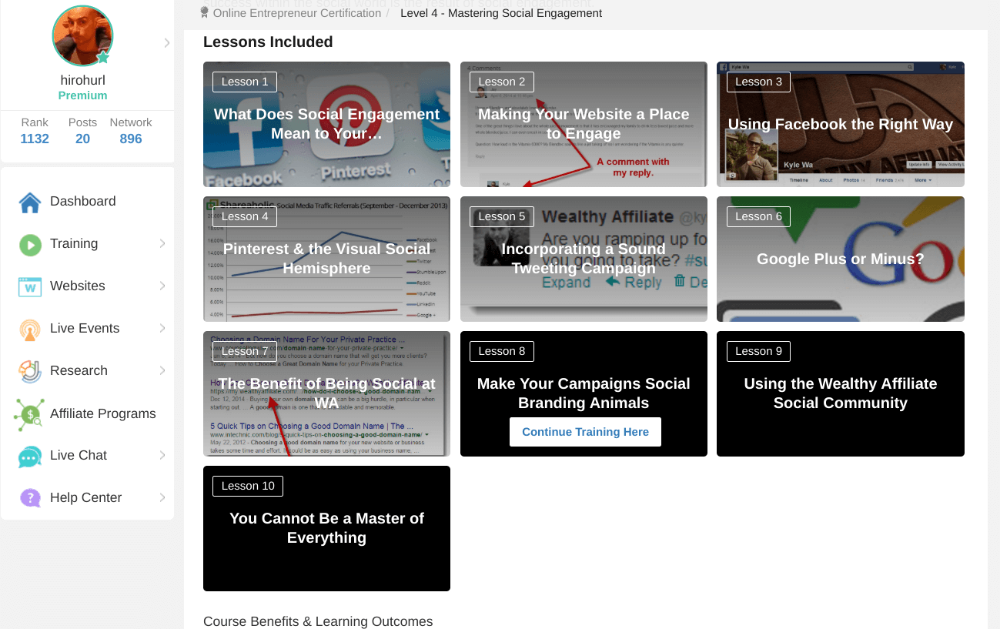 Each lesson is usually a combination of a video and supporting article. You can ask questions and post comments in response. The live events are well worth attending – or make a point of watching the recorded versions. There is a massive active community to engage with on a busy forum as well.
As a free member you get basic training, but to truly benefit from this resource you really do need to upgrade. Here is a cost/benefit comparison of the free "Starter" level and the paid "Premium" level: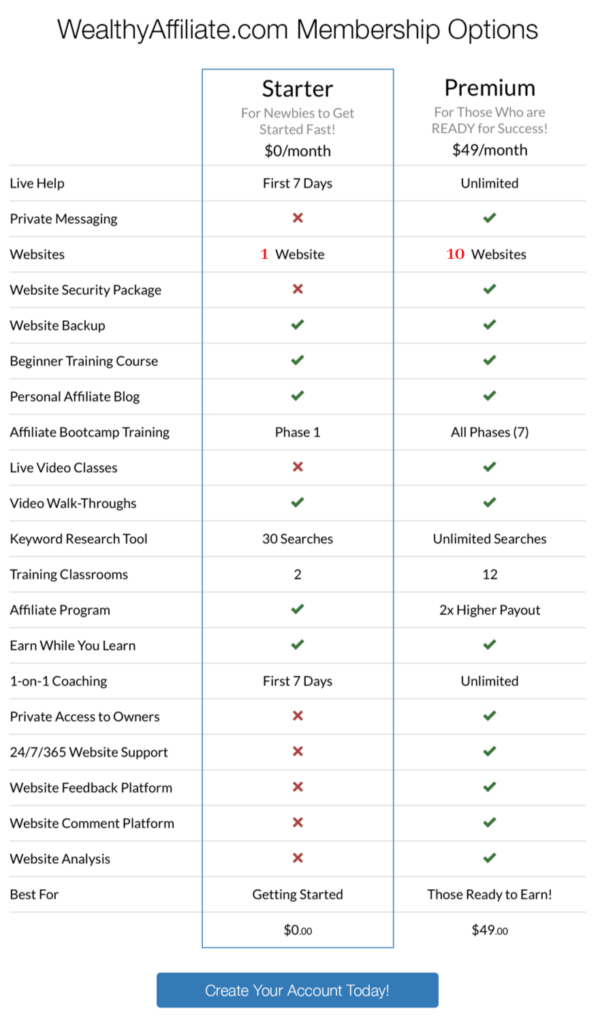 3. YouTube
YouTube is an excellent resource for learning online marketing for free. Simply enter your question into the YouTube search bar and you will almost certainly find a lot of relevant training videos.
Those are my personal top 3 resources that I use to study and research Internet marketing tips and strategies.
One Pitfall of Study and Research…
I think the most common pitfall people make when learning online marketing is the failure to take action on what you have learnt.
Don't spend too much time "putting your ducks in order." Instead, aim to split your time like this:
Research = 5% – because the Internet makes it super fast and easy to search for and find the info we need.
Learning = 10%-15% – If that doesn't sound like enough, try speeding things up by playing YouTube videos at 1.5x to 2x the regular playing speed.
Taking Action = 70%-85% – If you encounter pitfalls while TAKING ACTION that is all to the good because that is where the real learning begins.
All the best,
David Hurley
#InspiredFocus