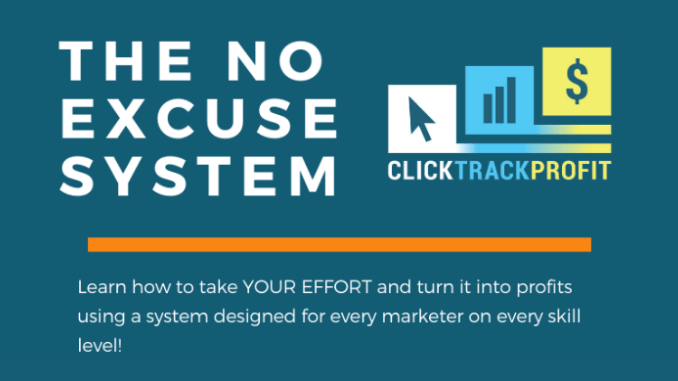 What is ClickTrackProfit's "No Excuse Success System"? It's an easy-to-follow routine that lets you earn from your content creation and network building activities.
Yes, you will start earning as soon as you create content for your blog. You can also earn by commenting on other people's content. You'll even earn simply by "upvoting" blog content that you like.
ClickTrackProfit's "No Excuse" Success System is really very simple to follow. There is even an infographic to make the process easy to visualize and understand. (Scroll down for the infographic.)
The No Excuse System, by ClickTrackProfit
Learn how to turn your content creation effort into profits using a system designed for every marketer on every skill level!
It is a completely cost-free system! Get started for free and earn while you learn how to market your business effectively on the Internet. I wrote more about how to succeed with ClickTrackProfit in this blog post.
Here's How ClickTrackProfit's System Works
Step 1: Join ClickTrackProfit (it's free) and dive into the community. Watch the course videos and put into practice what you learn.
Step 2: Discover CTPTalk.com and begin your own content creation adventure. Create blog posts, comment on other people's posts, and curate or "upvote" the ones you like. Read more about CTPTalk here!
Step 3: "Mine" CTP Tokens from all your activities. Yes, when you post, comment and curate, you will earn CTP Tokens.
Step 4: Cash in your CTP Tokens. CTP Tokens are real crypto tokens that can be converted into Steem. Steem is a cryptocurrency like Bitcoin. You can convert Steem into hard cash, Bitcoin, or any other crypto currency.
Another option is to use CTP Tokens to purchase products and services with ClickTrackProfit's Fire-Pay merchants. (Note: my own membership site – EliteDownlineBuilder.com – is a Fire-Pay merchant.)
Step 5: Continue the process of creating content, growing your network and building your business. As you continue to work with the system your rewards will increase. You will earn more and more for your efforts.
In short, you earn while you learn, and get paid for the actions you take. And you can start earning from today! Join ClickTrackProfit to get started.
Are You Ready To Join The Successful 5%?
95 out of 100 people will do nothing. Or they'll give you an excuse about why they cannot succeed in affiliate marketing.
You do not have to be like them. It's time to break the cycle. Join us on our journey with ClickTrackProfit's "No Excuse System." Become part of the 5% that DO succeed with Internet affiliate marketing. Let ClickTrackProfit and its remarkable community of committed members show you how!