I just checked Eastern Time and I see it's already gone 2am on 16th March and I'm only just finishing off Day 1 of the #3StepsNoExcuses Challenge!
Here's what I did on Day 1…
The first thing I did was to listen to Crypto Mondays live on Facebook. It was there that @jongolson coined the word #bufoolery which @robwillmann picked up and shared on Noise.Cash.
So the second thing I did was to share Rob's post on my NoiseCash profile @ https://noise.cash/u/hirohurl
Then I made a couple more 3Steps-related posts on NoiseCash.
After that I popped over to RealSpecific, which I use to manage my Facebook, Twitter and LinkedIn posts, and announced the 3StepsNoExcuses challenge on several of my FB pages and on my Twitter account.
Things To Do With An Old Moleskin…
Then I dug out an old Moleskin notebook to use as my diary for the duration of the challenge.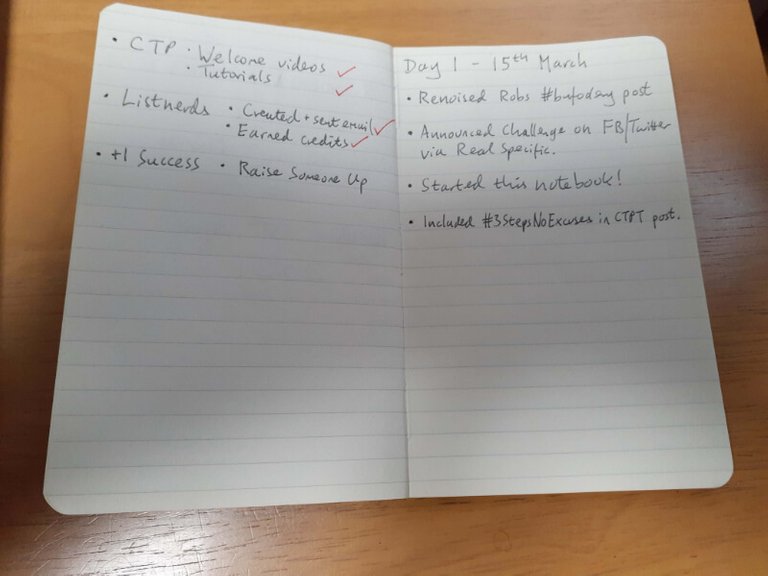 After that I watched the CTP videos for Day 1 of the challenge. While doing that I accumulated some credits on ListNerds.
The CTP videos were a useful refresher.
When that was done I moved on to ListNerds and created and sent an email. I have a basic upgrade, so I can post an email every 5 days. I will stick to that membership level, but will log in each day to monitor the progress of the email and earn some credits by reading members' emails.
A Thousand A Month – 4th Edition Launch!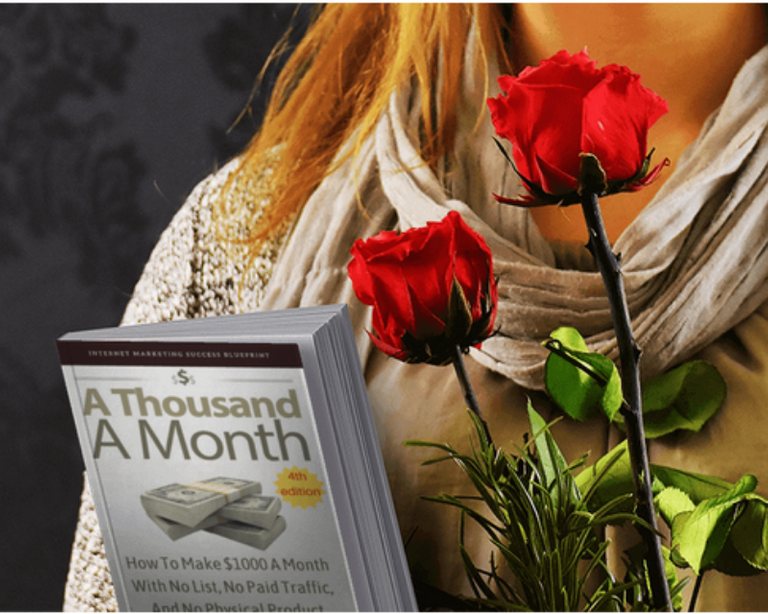 After that I switched to working on promoting the 4th edition of my book, A Thousand A Month, using the email I'd posted on ListNerds as a template for this blog post:
https://ctptalk.com/thousandamonth/@hirohurl/are-you-making-a-thousand-a-month-yet-if-not-this-is-for-you
For me the 3StepsNoExcuses Challenge is a good fit for my book promotion efforts. The two projects nicely compliment each other, and so I included the 3StepsNoExcuses hashtag in that blog post.
EliteDownlineBuilder
Then I switched over to working on my membership site, EliteDownlineBuilder to set up a new "Readers Bonus" membership level for free, or silver members to upgrade to in order to get a copy of the ebook plus 10 FREE Solo Ads as a "thank you" gift.
And so the last act of the day – er yesterday – is to "raise someone up" by mentioning them here.
The person who I'd like to mention is @celi130 who lives in Venezuela and who is working diligently on various Hive-related projects to generate a valuable source of income to help her family, demonstrating the real-world value of what we are doing here on Hive, CTPTalk and other Hive-based platforms.
One more shoutout is to @robwillmann – it's great that he's back on form and contributing so much to the community!
That's it for now… Aaargh, it's Day 2 already, so it's not it at all, but I'm off for a good soak at our local spa, and perhaps an evening spent looking over a few chess variations…
Cheers for now,
David Hurley
https://elitedownlinebuilder.com