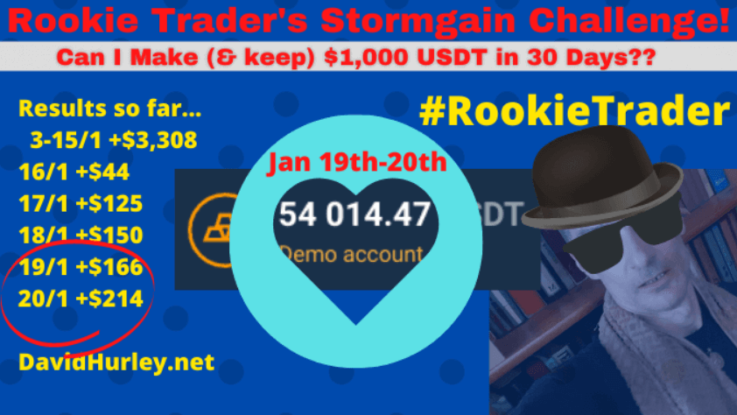 The last couple of days I've had a happy time scalping long trades while the crypto markets tread water.
Scalping Bitcoin
Last night I made $16 scalping Bitcoin and then went in again and let the "Take Profit" mechanism close out the trade at +$150 to finish the day with a $166 profit in my demo-trading account.
Scalping Polkadot
This evening I have been scalping Polkadot. I noticed it had dropped from the recent $17 highs to $15 so I popped in and took out a long trade for $500 with 10x leverage and quickly closed out for a $15 profit. I rinsed and repeated for another $15 profit.
Then I decided to put in a $500 x10 leverage limit/stop order at $14.999 with "Take Profit" set at $150. Next time I checked, the order had been executed and was $109 in profit, so I closed out and set another limit/stop order at $14.999 on the same terms. Some time later it was triggered, and I closed out $24 to the good.
That was going to be it for the night, but an hour or so later I noticed the price dropping again so I set yet another $14.999 limit/stop order and closed it out for a $51 "bonus" profit in my demo-trade account.
So that was a total of five profitable trades on fluctuatons in the price of Polkadot in the time it takes a chap to quaff four cans of Kirin Ichiban Shibori lager.
Here's the record of my demo-trades over the last couple of days:
What Was I Saying About NOT Installing The Stormgain App On My Phone? LOL!
I was quite sure I would not install the Stormgain app on my phone because I did not want to be distracted by trading while going about my offline business.
That, at least, is what I said to myself.
However, last night I was unable to log in to my account as the 2fa panel suddenly stopped functioning. But I wanted to make at least one demo-trade as I am committed to making at least one demo-trade per day in January 2021, so I decided to install the app and see if I could work with it.
Later on I gave my Chromebook a Powerwash and that cleared whatever bug it was that was affecting the 2fa screen, so I did my trading on the computer as usual, but the cool thing was that I was able to monitor the trades on my phone. I closed out the first of my two Bitcoin trades that way.
Okay, so there is a real benefit to having the app on your phone. You can monitor your open orders and close them out any time. Obvious really, but there you go.
My January 2021 "profit" has grown to $4,014 so far!
Come along for the ride as I try to learn how to trade my way to a profit!
If you are an experienced trader, any advice would be welcome. Let me know where I'm going wrong, or post some tips in the comments below.
Check out Stormgain at: https://fwd.cx/WmUzkey5BqVp
Looking for a safer way to accumulate and store bitcoin? This is what I use: https://freebitco.in/?r=37315680
David Hurley
Disclaimer: I am not a financial advisor and this is certainly not financial advice. Simply the musings of a rookie trader playing with pretend money…