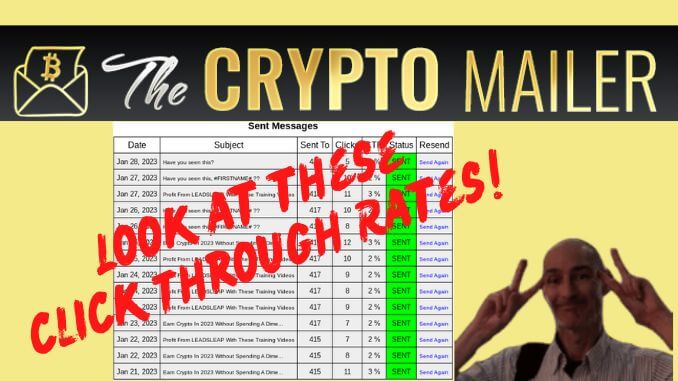 In my first week as a Gold Lifetime member of TheCryptoMailer I've been mailing out once or twice a day and getting some good CTRs (click-through rates) of up to 3% on my mailings so far.
For a one time payment of $45 for a Lifetime Gold, or $25 for a Lifetime Silver membership, an active and growing user base, and experienced and committed owners, this really is a no-brainer for anybody who wants to target crypto users for their offers. See my previous post about TheCryptoMailer for more info.
Here's a quick video I made about the CTRs I've been getting from TheCryptoMailer in my first week as a Gold member:
Transcript of The Crypto Mailer CTR Rates Video
Hello folks,
This is David Hurley of DavidHurley.net bringing you another quick video about TheCryptoMailer and in this video I'm going to log in to the site and show you the kind of click-through rates that I've been getting for my emails, which are going out once or twice a day since I upgraded earlier this month.
So I upgraded on January 21st (2023), sent out my first message (that day), and ever since then I have been consistently sending out emails and getting a pretty nice click-through rate of two percent every day.
3% CTR
It went up to three percent. That's a particularly good result. That's probably because the headline is targeting TheCryptoMailer members with a crypto-based message in the headline. Always consider the target audience when you send out your emails.
So I've got a three percent click through rate there. It's tailed off a bit in the last couple of days so I should probably refresh the headlines to my emails now.
How To Get The Most Out Of Safelist Mailers
For best results when you're mailing out to a safelist, I don't recommend that you try to promote your program or your your offer on the front end. Instead make a free offer; offer some value get them onto a landing page so that they can opt into your mailing list and that's where you build your relationship with your new subscribers.
If you do that you will have success through safetist mailing provided that you're using the safelists that have active and engaged members, and experienced and committed owners such as we have here at TheCryptoMailer – so if you'd like to hop in, this is a lifetime membership. You only ever have to pay once and get all these benefits for Life as a gold or silver member. It's either $25 for silver or $45 dollars for gold, one-time payment only.
TheCryptoMailer Is a Dynamic and Fast-Growing Safelist
Okay folks, it's a pretty good site. I'm impressed with the way things are going with TheCryptoMailer. It's not got the biggest membership yet, but it is growing. It is dynamic. It is engaged, and it is worth the lifetime membership.
Okay that's all from me for now, David Hurley of David hurley.net. If you enjoyed this video don't forget to like and subscribe and hit the bell and all that sort of thing.
Until the next time over and out.