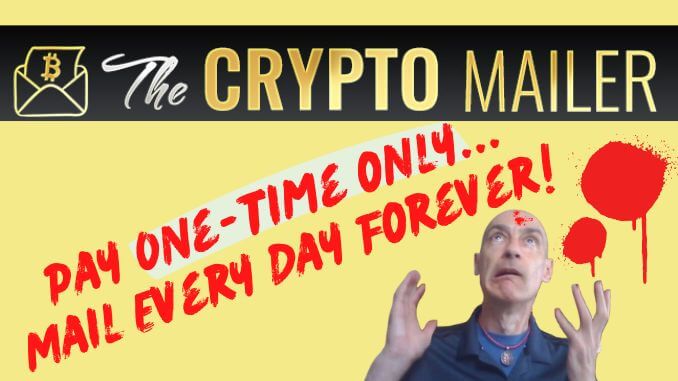 You know as a viral mailer marketer you can't get anything better than a lifetime membership for a one-time fee in a safelist that has an active membership.
TheCryptoMailer Lifetime Deal Is A No-Brainer!
If you can tie that into a safelist that is specifically targeted at crypto users – people who already have Bitcoin or other crypto accounts – then you are most likely on to a winner. There's great leverage to be had in such sites and I have one to recommend to you today, and that is TheCryptoMailer.com
I've just joined TheCryptoMailer, and as you can see in the video, I'm now a Gold member. This is a one-time payment lifetime membership. So it is a no-brainer if you use safelists to promote your online business.
Check out the full details in this video I made:
TheCryptoMailer Gold Lifetime Membership Deal
So let me show you what the Gold lifetime upgrade deal is:
Get 20,000 monthly credits you can mail every day.
Mail every day.
Get 10 credits per click when you click on other members mails.
6 second timer.
There is a 5-level affiliate program.
Earn $10 commissions paid in crypto for every member you refer who also upgrades to gold.
Earn $3 on levels two to five.
3,000 Banner ad impressions
3,000Text ad impressions
Those benefits come from a one-time lifetime Gold membership payment. There's also a cheaper Silver membership where you get half the value effectively. So let's have a look at the price:
Lifetime Gold member is just $45.
Lifetime Silver membership for just $25.
Pay and Get Paid In Multiple Cryptocurrencies
You can choose to pay in these cryptocurrencies:
Bitcoin
Litecoin
Etherium
Doge
XRP (Ripple)
Tron
BitTorrent
Verge
Tether
Erc20
In short, there's a whole bunch of cryptos that you can use to buy a lifetime membership of TheCryptoMailer.
Run by Known and Trusted Safelist Owners
The crypto mailer is run by two well-known names in the industry, Marty Petrizza and Greg Hickman. Anybody who is a keen safelist marketer will recognize those names.
So TheCryptoMailer is a safelist that you can trust. It will work for you if you put it to work. See the Click-Through Rates I've been getting. You only pay once and you get all those benefits for life. Check it out for free at first if you wish, then Go For Gold if you like what you see.