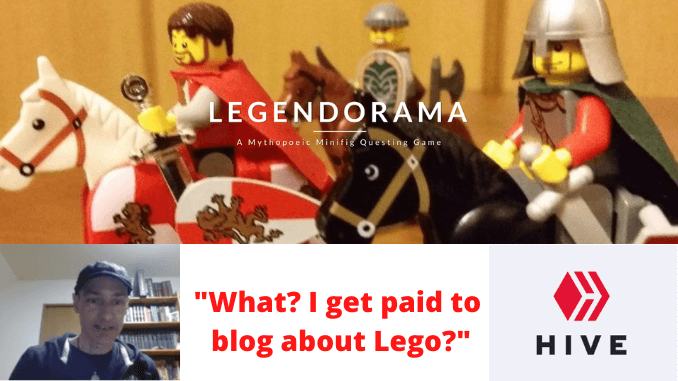 In this "conceptual" #2020Vision challenge I talk about a "back burner" Lego project of mine called Legendorama and show you how to get paid to blog on the Hive blockchain.
I found a Lego community on Hive.blog last night and thought it would be a good place to post some content about my Legendorama project. Imagine getting paid to blog about a fantasy Lego game! Well, if you publish your blog posts on the Hive blogging platform, you can!
Hive Is A New Blockchain After A Hardfork From Steem
Hive is a new blockchain that split from another crypto project called Steem in a hardfork earlier this month. As I had about 100 Steem tokens, I benefitted from the hardfork as around 100 Hive tokens were "airdropped" into my new Hive account as a result of the hardfork.
Video: How I Get Paid To Blog On The Hive Blockchain
So I made this video (as part of the #2020Vision challenge – details below) to show how I had started to get paid to blog about Lego (!) on the Hive blockchain:
That's the wonder of blogging on the Hive blockchain! You can blog about whatever you like (within reason) and get paid for doing so.
If you find a lively Hive Community – such as the Hive Lego community – where you can publish, you can get paid considerably more than if you just post on your own Hive blog profile.
Some people who have established themselves are getting paid well over $100 worth of Hive per post. (Keep in mind that the dollar-value of Hive will fluctuate.)
In my case, as a relative beginner, I typically earn a few cents for my blog posts, but when I posted a couple of Lego-related blog post on the Hive Lego community I earned several dollars each time, as you can see in the screenshot: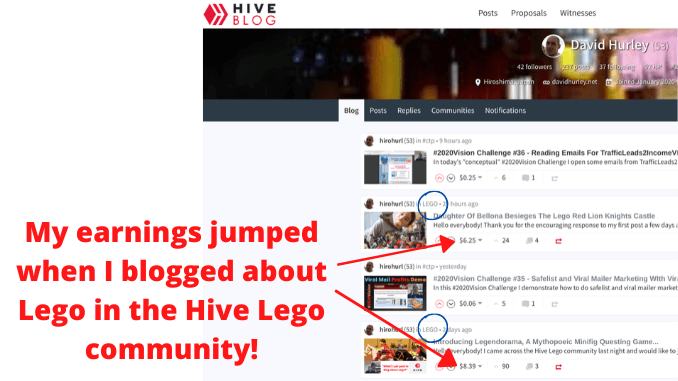 That's how to get paid to blog on the Hive blockchain!
#2020Vision Challenge
34/61 challenges completed! Can I get the next 27 challenges done before Easter??
What other Hive communities have I joined? Of course, the Hive Click Track Profit community, the Hive JP Japanese community, and the Hive Chess community.
#2020Vision is part of the ClickTrackProfit community on https://ctptalk.com and is now on the new Hive blockchain @ https://hive.blog
Join our ClickTrackProfit community and learn how to get paid to publish content such as this on the Steem blockchain: https://clicktrackprofit.com/hirohurl
Thanks to @pixiepost for creating the #2020vision following the example of #actifit !!
David Hurley
#InspiredFocus