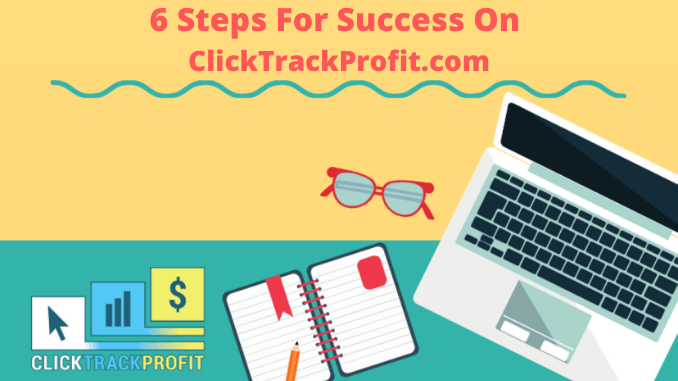 ClickTrackProfit (CTP) is a seriously-good yet fun-packed training platform for Internet marketers. You can go at your own pace using their unique "drip fed" video training method. It will take you step by step from the beginner stage all the way through to expert Internet marketing level.
Good as the training is, it will only work for you if you take action! Here are 6 Action Steps that will ensure your success as a ClickTrackProfit affiliate:
1. ACT on the "3 Steps To Success"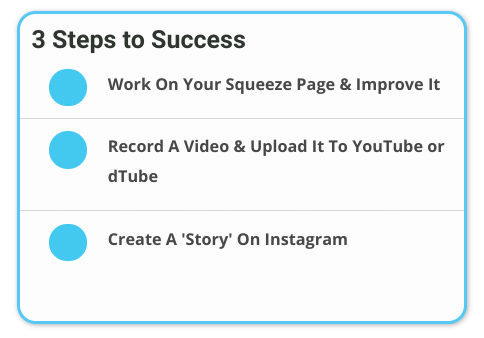 On the members dashboard there is a "3 Steps to Success" panel that challenges you with 3 steps to take each day to get you out of your comfort zone and growing your business every day.
Check off the blue circles as you finish the tasks each day.
2. Build Your List
This is not up for debate. You need an autoresponder so that you can build and maintain your list every day. An autoresponder service should be a part of your monthly online business budget.
3. Become Active Within the CTP Community
Engage with fellow ClickTrackProfit members on Telegram, CTPTalk and Steemit as well as on Twitter and Facebook.
The CTP community is vibrant and active, so come and join in the fun and the discussions. The people you meet and network with today may become your business associates or customers for years to come.
4. Invest in ClickTrackProfit
Yes, we are building a business and that will cost money. Upgrading your CTP account gives you access to more in-depth training, a lead capture page builder, random referrals and more.
In addition, you will be leading by example, which will encourage the people you introduce to CTP to follow suit.
5. Create, Curate, and Comment on Content
Yes, you should also make content creation a daily habit. ClickTrackProfit has created the CTPTalk blogging platform where you get PAID to create content, PAID to curate other people's content, and PAID to post comments on other people's content as well. How cool is that? ?
6. Keep Showing Up!
This is the ultimate (and most simple) secret to success. Even on bad days you can show up for 5 minutes even if you only do one thing, such as comment on somebody else's blog post on CTPTalk!
Showing up every day creates the habit of persistence that will protect you from the Internet Marketing Vortex of Doom!
Here's a cool infographic of the 6 Steps for Success on ClickTrackProfit:
David Hurley
#InspiredFocus