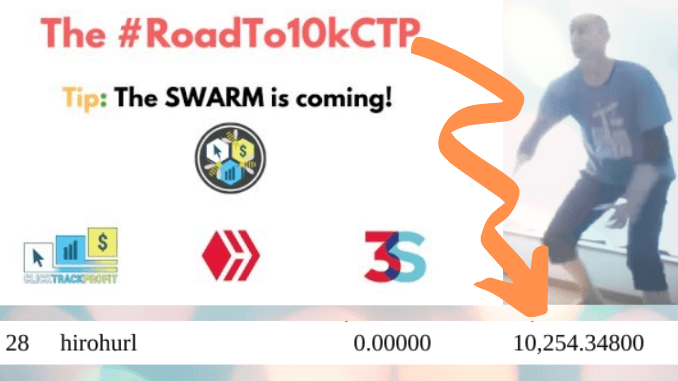 It was back in early February 2020. In one of his Crypto Monday videos, Jon Olson announced that he was raising the bar on the ClickTrackProfit crypto token accumulation challenge. Until then, the challenge had been called "The Road To 5k CTP" (and "The Road To 3k CTP" before that).
Now Jon and Blain – co-owners of the revamped ClickTrackProfit.com – were raising the challenge from 5,000 to 10,000 CTP Tokens. And so the #RoadTo10kCTP Tokens was launched.
You heard it right….We're bumping things up! We're headed to the moon so let's call our weekly feature – The Road To 10,000 CTP Tokens from now on 🙂

https://youtu.be/6JqxsFUBklo
Here's the video where Jon makes the announcement. It was only three months ago, but a LOT has changed since then…
ClickTrackProfit Joins The Exodus From Steem to Hive
For one thing, when the video was made, the CTP Token was hosted on the Steem blockchain. Then there was a hard fork in March when Steem community members set up the Hive blockchain and CTP moved across to Hive.
That move instantly rendered all references to "Steem" on DavidHurley.net out of date, even though the blog was less than two months old at that stage.
From now on, ClickTrackProfit would be part of the Hive community and the blockchain that supported it.
Moving Forward With The CTP Community On The Hive Blockchain
Through all the upheavals those changes caused, the ClickTrackProfit community continued to grow and develop. Members stepped forward to create or support initiatives such as the #2020Vision challenge which I also took part in from February through to Easter.
As part of the Hive ecosystem, we can earn "Hive" when we create content, or "upvote" or comment on other people's content that is published on the blockchain through one or other of the many "DAPPS" or "decentralized applications" – such as Hive.io, CTPTalk.com or 3Speak video platform.
The Value Of Owning CTP Tokens
Those of us who post content on CTPTalk.com can also earn CTP Tokens (in addition to earning Hive). Those CTP Tokens can be traded for Hive or other tokens. Hive itself can be traded for Bitcoin or other crypto or fiat currencies.
CTP Tokens can also be used to purchase upgrades and credits in a whole range of sites such as Traffic Exchanges and Viral Mailers – including my own EliteDownlineBuilder.com – through CTP's Fire-Pay.com payment processor.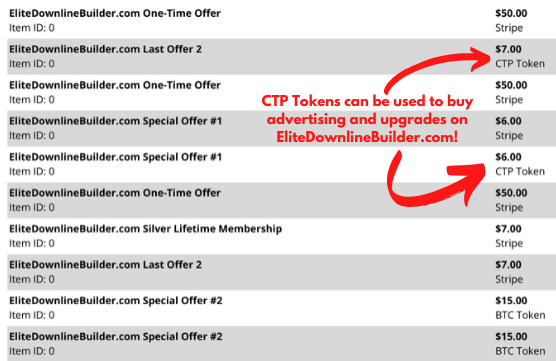 That means CTP Tokens have real value "out there" in the "real world" where people buy and sell goods and services.
Owning CTP Tokens Creates A Virtuous Circle
At the same time, the more CTP Tokens you own, the more you can earn when you post content, or upvote or comment on other people's content. In short, a virtuous circle is created. Here's what it looks like (just don't tell Jon Olsen that I stole the image from his Twitter feed):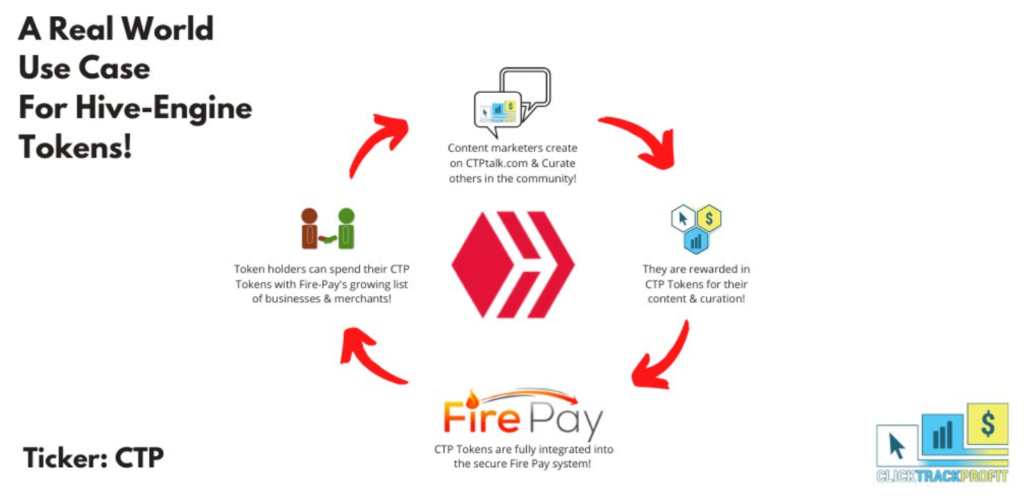 Okay, Back On The #RoadTo10kCTP Tokens…
According to my records, I had accumulated 2,515 CTP Tokens by the 3rd February, so I was just over half way towards the 5,000 CTP Token target when the goalposts were suddenly moved further away!
Three months later, I was finally able to bust my way through the 10,000 CTP Tokens target. The last push came when somebody used CTP Tokens to buy advertising on EliteDownlineBuilder.com and then when I won over 500 tokens in one of Russell Stockley's daily wheel spinning competitions!
On the day that I broke through the 10k barrier CTP Tokens also jumped 99% in value!
As we know, however, crypto currencies have a reputation for volatility, and when your tokens are valued at around 1 cent each, 100% shifts in value are not uncommon. That said, there are good reasons to expect CTP Tokens to rise in value over the medium to long term as the CTP community continues to grow, and as the CTP Token gains increasing recognition beyond the community.
David Hurley
#InspiredFocus