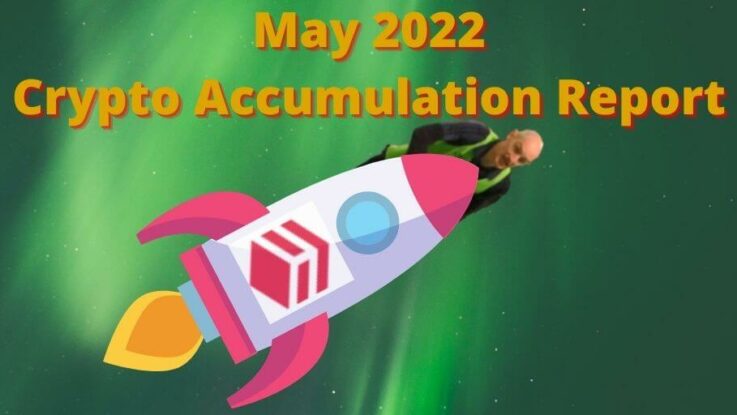 Things picked up speed on the crypto accumulation front in May and I made progress across all my target tokens. On the Hive blockchain, that was mainly thanks to two things:
I upgraded to Enterprise on Listnerds.com and was able to earn a lot more LISTNERDS and CTP crypto tokens almost every day throughout May.
I was able to create a lot more content and engage with a lot more people on the Hive blockchain than in April, thanks to the #JustOneThing project that @russellstockley and I launched at the end of April.
I am especially pleased with the amount of content I created because I had a lot less free time in May than in April. The #JustOneThing project has really helped me to stay focussed and productive on the blogging front.
I made progress in accumulating Hive second tier tokens by selling off a portion of the CTP I earned on Listnerds, but I was also careful to continue staking a portion of my CTP most days to maintain momentum towards my goal of 50,000 CTP by the end of the year.
Bitcoin Satoshi and Fun Tokens
As for Bitcoin and FUN, I made good progress towards my 3 million satoshi target thanks in part to around $60 worth of satoshi that came into my Freebitco.in account via SFI as commissions at a time when Bitcoin has lost ground against the dollar. (Yes, the SFI affiliate program works with Bitcoin. Here's a voucher for free 500 satoshi when you join my SFI team!)
I accumulated a lot of Reward Points on Freebitco.in and whenever I have a free day I convert them into FUN prizes and Satoshi prizes that you can earn when you hit the Roll button every hour. In that way I was also able to earn myself some more FUN tokens.
As for LISTNERDS, I earned 5,232 tokens in May. The Enterprise upgrade costs $97 and there is a large "Buy" order for LISTNERDS on Hive-Engine at $1.50, the "paper value" of my stake is $7,848.
(NOTE: This is NOT financial advice. Two factors to consider before jumping to conclusions are (1) it takes 10 weeks to unstake your LISTNERDS during which time they will not be earning daily dividends, and (2) prices and liquidity vary on Hive-Engine so there is no guarantee that you would get $1.50 for all or any of your LISTNERDS tokens once they are liquid.)
Anyway, here's the latest state of play at the beginning of June 2022:
| | | | | |
| --- | --- | --- | --- | --- |
| Crypto Asset | 1st January | 7th May | 1st June | 2022 TARGETS |
| HIVE | 779 | 864 | 915 | 1,500 |
| CTP | 37,271 | 39,364 | 39,700 | 50,000 |
| CTPSB | 194 | 195 | 198 | 250 |
| INDEX | 1,100 | 1,142 | 1,190 | 1,500 |
| ALIVE | 1006 | 1,548 | 1,796 | 5,000 |
| LEN | 47 | 62 | 78 | 1000 |
| LEO | 46 | 65 | 72 | 1,000 |
| LISTNERDS | 11 | 1,248 | 6,480 | 200 |
| POB | 100 | 217 | 264 | 1,000 |
| FreeBitcoin Satoshi | 1,520,291 | 2,371,468 | 2,594,300 | 3,000,000 |
| FUN | 51,109 | 52,286 | 52,446 | 125,000 |
| SPS | – | 150 | 215 | 300 |
All the best,
David Hurley
#InspiredFocus