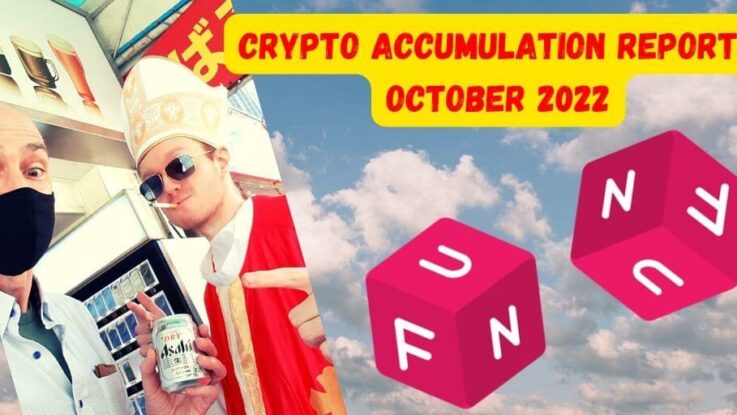 I'm pleased to report that I made at least some progress across the whole of my portfolio in October. Okay, so it's not going to be enough to hit most of the targets I set back in the New Year, but October felt like a more productive month than September.
There are a few factors in play that helped me make progress and I'll break them down in this post.
Here's the state of play on 2nd November 2022:
Crypto Asset
1st January
1st October
2nd November
2022 TARGETS
HIVE
779
1,088
1,121
1,500
CTP
37,271
41,854
42,783
50,000
CTPSB
194
199
200
250
INDEX
1,100
1,195
1204
1,500
ALIVE
1006
2,327
2,425
5,000
LEN
47
97 (38 + 59 lp)
127 (64 + 63 lp)
[year high = 132]
1000
LEO
46
110
113
1,000
LISTNERDS
11
57,497
57,772
200
POB
100
426
460
1,000
FreeBitcoin Satoshi
1,520,291
3,004,783
3,008,127
3,000,000
FUN
51,109
103,865
111,327
125,000
SPS
–
424 (390 st + 34 lp)
517 (429 + 88 lp)
300
On Target For 125,000 FUN
Right now my top priority is to hit the 125,000 FUN token target. My FUN token balance has increased by 7,462 FUN tokens since last month's report, and that puts me slightly ahead of where I need to be as I only need to accumulate 6,837 tokens in each of the remaining two months to hit the target.
Why did I set the target at 125,000 FUN tokens?
Because that is the next rewards tier (after the 50,000 tier) on my Freebitco.in account. It will give me a higher interest rate on my Bitcoin and some extra daily Wheel of Fortune spins (up to 12 per day + the 1 free spin that you get in the email newsletter), as you can see in this chart: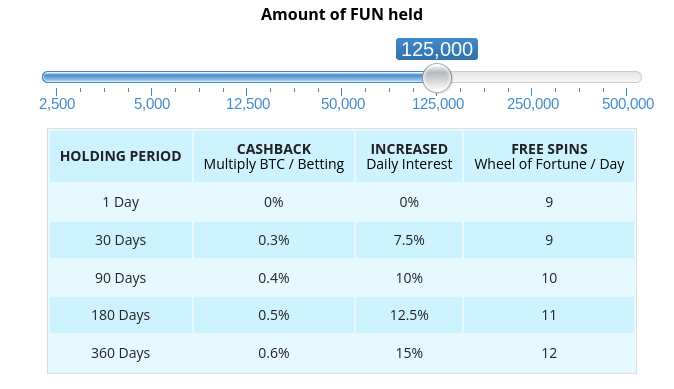 What I'm Doing To Hit My 2022 FUN Target
First, since I hit my 2022 target of 3 million BTC satoshi in my Freebitco.in account I have been regularly swapping all the extra satoshi earnings for FUN tokens.
Second, every time I accumulate enough Reward Points I trade them in for FUN token rewards on the hourly button roll. Today, for example, I am earning 5 FUN tokens per hour after cashing in 3,918 Reward Points.
Third, I receive my SFI commissions as Bitcoin paid directly into my Freebitco.in account. I convert the commission total into FUN tokens.
Plodding Along At +1 Hive Per Day
I added 33 Hive to my total since the previous month's report, so about one Hive per day, which is not my best performance of the year, but for me, +1 per day feels like reasonable progress even though it is too slow to hit the goal I set in January.
Until a few months ago I used to swap out my HBD for HIVE, but since the interest rate rose to 20% apr for HBD, I have been staking them and will set a target for HBD in 2023.
HIVE 2nd Tier Tokens
For a couple of months I was selling off some CTP tokens to buy SPS so that slowed down my progress towards 50k CTP. However, now that LISTNERDS have started to flow into my liquid account I have stopped selling off CTP and so my CTP staking picked up some momentum. I don't think I will hit 50k by the end of the year, but perhaps 45k is possible… It all depends now on how much CTP Talk content I can pump out.
One thing that helped both my HIVE and CTP earnings in October was Jon Olson's #Index4Index challenge. For that challenge I post images of quotations that inspire us on Liketu and report about them on CTP Talk.
Thanks to that initiative, I have also been able to make a bit more progress on the INDEX token front because Jon is tipping INDEX for Index4Index posts that he likes. 🙂
I'm continuing to accumulate LISTNERDS at a rate of around 5 tokens per day on a typical day. I unstake the rest of my daily earnings and have been swapping them for SPS and other 2nd tier tokens. However, the price of LISTNERDS has crashed so my hopes of using LISTNERDS to achieve my other 2nd tier targets seem to have bitten the dust, at least for the time being.
Tribaldex Liquidity Pools
SPS tokens are now one of my priorities, even though I hit the modest target of 300 tokens that I set a few months ago when I started staking SPS inside Splinterlands. Since then, I continue to stake SPS and also to add SPS to a couple of liquidity pools on Tribaldex to boost my earnings.
Speaking of liquidity pools, I'm pleased with the progress I've been making with LEN since I put some into the LEN/LENM liquidity pool last month. I hope to add some more in November, and I expect to hit a new high this month although I doubt that it will be enough to hit my 2022 target. On the other hand, having this new way of accumulating LEN should set me up nicely for bigger gains in 2023 if all goes well.
At Last! Progress With CTPSB!
Finally, I'm pleased to report that I made a bit of progress with CTPSB by adding ONE token to my stash to make it to 200 tokens after several months of being stuck on 199! I doubt that I'll pick up 25 tokens per month in November and December to hit the 250 target I optimistically set for myself back in the New Year though!
Even so, I'm quite pleased to have made SOME progress on all fronts over the last month. Onwards and upwards!
Cheers,
David Hurley
#InspiredFocus
References
Fun Token: https://funtoken.io/
FreeBitcoin: https://freebitco.in/?r=37315680 (affiliate link)
Hive: https://hive.io/
Hive 2nd Tier Tokens: https://hive-engine.com/
Tribaldex: https://tribaldex.com/
Liketu: https://liketu.com/@hirohurl
CTP Talk: https://ctptalk.com/@hirohurl
SFI: https://www.joinmysfiteam.com/9613031 (affiliate link)