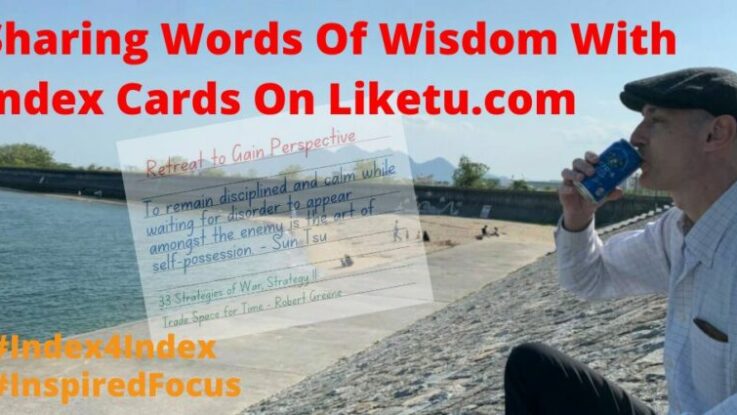 Liketu.com is a photosharing social media site that's built on the HIVE blockchain. That means you can earn HIVE cryptocurrency when your photos and comments are upvoted by other members of the community. Here's what the homepage looks like at a random moment in time (i.e. as I type this):
Liketu.com is one of many "frontend" sites that have been built on top of the Hive blockchain.
Liketu is One Hive-based Frontend, CTPTalk is Another
Another site, for business bloggers, is CTPTalk.com, which is where I post a lot of my Hive-based content. CTPTalk was launched by the ClickTrackProfit team and is overseen by CTP co-owner, Jon Olson.
In a recent CTPTalk.com post @jongolson announced the start of a new initiative called #Index4Index …
Jon Olson's Index4Index post: https://ctptalk.com/@jongolson/lets-try-something-newwell-call-it-index4index
Get Tipped In Index By Sharing Index Card Quotes On Liketu
The idea is to share inspirational quotations or thought-provoking ideas and tips on the Liketu.com photo-sharing site by posting images of index cards.
Add the hashtag #Index4Index and @jongolson will tip you an "INDEX" token.
Okay, So What Is INDEX?
"INDEX" is a 2nd tier Hive blockchain project (launched by the CTP team) that tracks a basket of 2nd tier tokens and pays out dividends on them.
If you hold INDEX tokens you will get a share of those token distributions.
Find out more about the INDEX token here: https://he-index.io/
I've Already Earned A Couple Of INDEX Tokens!
I have posted two "index card" quotation images on Liketu and received a lot of upvotes, which have earned me some HIVE cryptocurrency… AND I have received two INDEX tokens from Jon so far…
How much is one INDEX worth? Today's rate is 0.48 of a HIVE token, or $0.23 (and that is on top of my HIVE token earnings from upvotes I gleaned for my images on Liketu).
#Index4Index Explainer Video (& My Repurposing Strategy)
In this video I explain what the #Index4Index project is and how I responded to it – and then how I repurposed the Liketu content for CTPTalk – and then how imported that article to Medium.com and expanded it to create a longer article for that specific audience.
Index Cards: Physical or Digital?
I like the idea of creating a physical collection of inspiring index cards, but I decided to create my own digital index cards. I did that by converting a postcard template into an index card template on canva.com and working with that to create digital index cards for my Liketu posts, like this:
The #Index4Index initiative is a fun project to get involved with, and a great way to get your content out there – and earn some crypto for your efforts!
Cheers!
David Hurley
#InspiredFocus