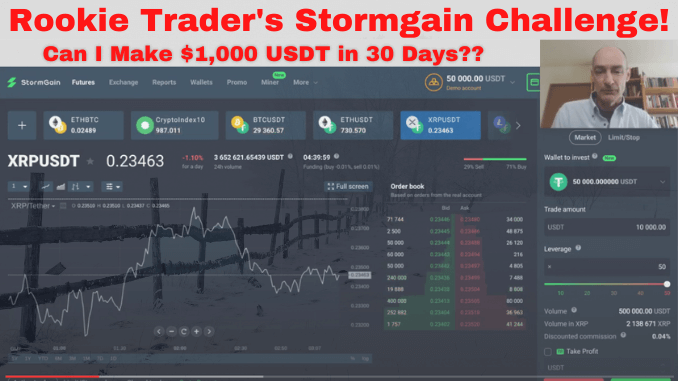 Can a rookie crypto trader actually make a $1000 USDT profit in one month of trading on the Stormgain trading platform?
I have no idea if it's possible, but that's what I'm trying to do in January 2021!
Happy New Year, by the way!
I believe 2021 is going to be an exciting time for crypto, not only Bitcoin, which is expected to break new highs during the course of the year, but also alt coins, several of which are traded on the Stormgain platform.
Trading with the Demo Account on Stormgain
For the purposes of this January 2021 challenge, I will use Stormgain's demo account. When you open an account with Stormgain they give you a $50,000 USDT demo trading trading account so you can learn the ropes without risking your own capital. I talk about that in this video:
How Not To Make Money On Stormgain!
In my case, I went straight in with a small amount of BTC, around $160 worth at the time (mid December 2020), and traded it for XRP (Ripple).
The very next day the news broke that the SEC was prosecuting Ripple! The price plunged and I spent the next couple of days trying to earn extra XRP by shorting the market. It seemed to work. I was actually in the money by about $25.
Then I got over confident and decided to cash out of XRP while I was ahead and try some Bitcoin trades. Wow! The speed and volatility, compared to trading XRP was a real eye-opener, and the trades were not necessarily in my favour!
In short, over a period of about a week I managed to trade away my profit and my initial $165 deposit went right down to zero after reaching a high of $185.
Learning To Trade Properly
Obviously, I need to learn how to trade properly! So that is the purpose of this challenge – to see if I can learn how to trade profitably in just 30 days during the course of January 2021.
Come along for the ride as I try to learn how to trade my way to a profit!
If you are an experienced trader, any advice would be welcome. Let me know where I'm going wrong, or post some tips in the comments below.
Check out Stormgain at: https://fwd.cx/WmUzkey5BqVp
Looking for a safer way to accumulate and store bitcoin?
This is what I use: https://freebitco.in/?r=37315680
David Hurley
#InspiredFocus