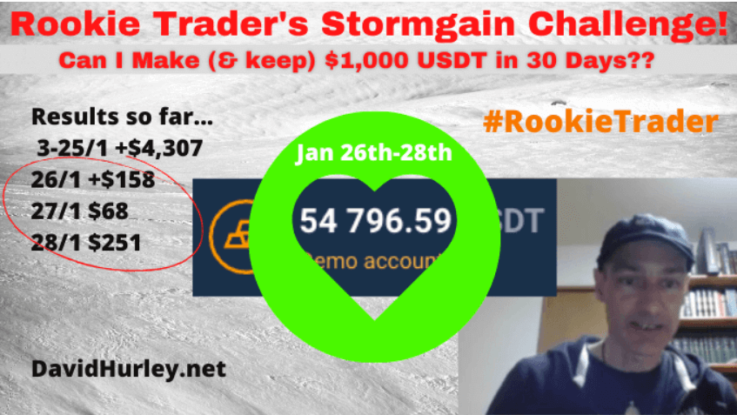 Things have been hectic over the last three days so apologies for the lack of reports from the front!
I made four trades on Tuesday, two in Bitcoin, one in Polkadot and one in Etherium for a total gain of $158.
On Wednesday I only had time to make one trade, which was in Bitcoin and earned me $68.
Honestly, the details of those trades are already rather hazy!
Yesterday I made two trades, one in Etherium and the other in Bitcoin. Actually, I thought my day was done when Etherium came home nice and smoothly hitting the $100 "Take Profit". I announced it on Noise.Cash and said I was going to bed… but I picked up a nice little tip that Bitcoin was beginning to pump and went for a $500 x 30 leveraged long shot with "Auto Invest" set to "ON" and "Take Profit"set at $150.
Then before I had even got around to hopping under the bed covers, a cheerful message popped up letting me know that the trade had closed out $151 to the good!
I can think of more difficult ways to make $251 in an evening!
Five more days of the challenge to go! I'm beginning to wonder if I could achieve a 10% gain over the month… Shhh!

My January 2021 "profit" has grown to $4,796 so far!
Come along for the ride as I try to learn how to trade my way to a profit and keep hold of the loot! Only 5 more days to go – the challenge ends on Candlemas.
If you are an experienced trader, any advice would be welcome. Let me know where I'm going wrong, or post some tips in the comments below.
Check out Stormgain at: https://fwd.cx/WmUzkey5BqVp
Looking for a safer way to accumulate and store bitcoin?
This is what I use: https://freebitco.in/?r=37315680
David Hurley
Disclaimer: I am not a financial advisor and this is certainly not financial advice. Simply the musings of a rookie trader playing with pretend money on a demo trading account…