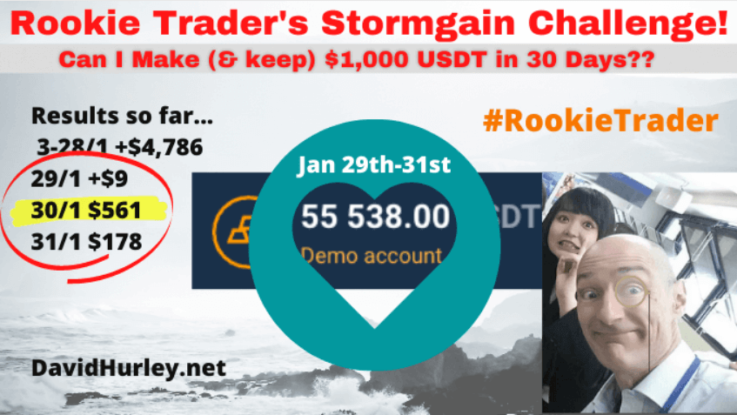 Bitcoin seems to be suffering from a fit of the collywobbles, and sometimes it causes my positions to take an age to come home and then I close them out for a modest gain, such as Friday's sole "demo trade" which took an age to get to $9! I wanted a peaceful night's sleep so I closed it out there and then.
Saturday morning's crypro collywobbles worked quickly in my favour with three relatively swift "demo trades" that automatically closed out when the +30% Take Profit mark was hit.
In the first case, the Bitcoin went straight up, but the next two of the three trades dipped steeply, triggering the "Auto Trade" which set them up for swift close outs when Bitcoin collywobbled upwards for a while.
Three "demo trades," and $561 in "profit." Not bad for a morning spent sat in my room!
Today saw a couple of quick profit-takes on my part, and then a much longer struggle to get back into the black on the third and final trade of the day. I was happy to close it out for a modest $21 profit after waiting on it for several hours during the day. I didn't want to go into the evening with open trades because I wanted to relax and watch Chelsea v Burnley and then (now, actually) Leicester v Leeds…
Still, not a bad day, $178 to the good on three trades.
So that's all from me for today!
Come on Leeds!

My January 2021 "profit" has grown to $5,538!
Just two more days to go, but come along for the ride as I try to learn how to trade my way to a profit and keep hold of the loot! Only 5 more days to go – the challenge ends on Candlemas.
If you are an experienced trader, any advice would be welcome. Let me know where I'm going wrong, or post some tips in the comments below.
Check out Stormgain at: https://fwd.cx/WmUzkey5BqVp
Looking for a safer way to accumulate and store bitcoin?
This is what I use: https://freebitco.in/?r=37315680
David Hurley
Disclaimer: I am not a financial advisor and this is certainly not financial advice. Simply the musings of a rookie trader playing with pretend money on a demo trading account…