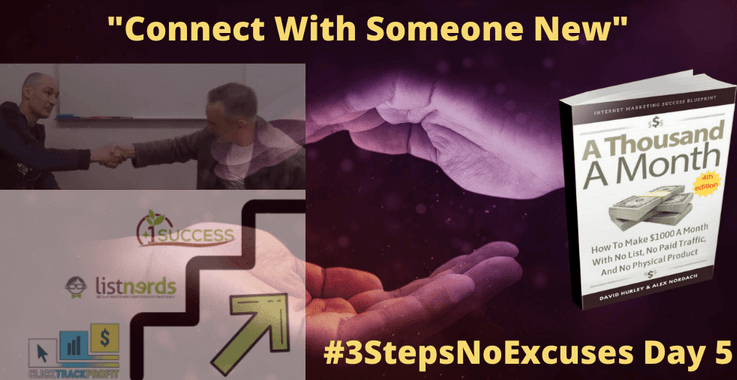 The #3StepsNoExcuses initiative challenges ClickTrackProfit members to take three steps towards developing your online business every day for 30 days. Today's three steps were pretty straightforward…
Step 1 CTP: Watch Hive Blockchain Training Videos
I watched the CTP Hive training video again, and also the third and fourth videos in the Hive Guide series.
I was familiar with most of the information, but one thing I tweaked as a result of watching them was my curation settings. I switched them from 50/50 to 100% Hive Power because I'm a Hive hodler and always power up any bits of Hive that come my way. So from now on I won't have to do that.
Not familiar with the Hive blockchain? Want to know how YOU can earn Hive simply by blogging, upvoting (i.e. "liking") and commenting on other people's posts? Take the FREE Hive Guide video training course!
What's The Hive Guide All About?
Step 2 Listnerds: Check Your Email Length
I can't see the body of the last email I sent inside Listnerds so I checked it out on ViralMailProfits where you can store all your safelist emails. Usually, I keep emails short, and I usually direct people to a squeeze page such as https://lllpg.com/drs9vyjs . However, this one was a bit different as I sent it out to promote the release of the fourth edition of my co-authored book, A Thousand A Month .
Anyway, here's the email. I guess I should have added a link above the fold:
@@@@@@@@@@
Hi …,
I'm excited to announce the launch of the FOURTH EDITION of my
co-authored book, A Thousand A Month: How to Make $1000 a Month
with No List, No Paid Traffic, and No Physical Product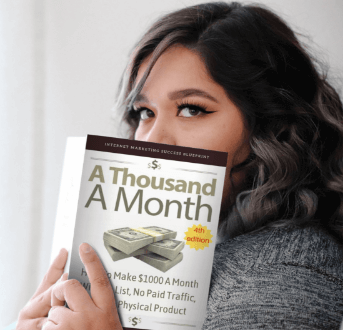 If you're already making a thousand bucks a month clear profit
from your online business, this is NOT for you!
Do you earn a few bucks a month, or do you manage to earn over
$100 a month but struggle to push through to four figures?
In that case, what we lay out in A Thousand A Month is a road map
to get you from where you are today to the NEXT level in your
online business adventure.
Find out more @ https://thousandamonth.com
All the best,
David Hurley
@@@@@@@@@@
I also went through a few Listnerds emails to earn some credits towards my next mailing.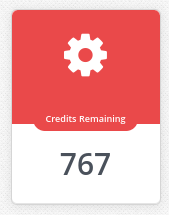 Step 3 Plus1Success
Today's task was to connect with someone new. For us on CTPTalk that should be pretty easy to do and I will post a comment on a CTPTalker's blog post and follow someone new on the CTPTalk platform later on.
However, for this task I decided to send a message to "Arthur," the young guy on TikTok whose chess video inspired me to start creating my own chess videos (and other crazy stuff I don't doubt).

All Sports??
Speaking of engaging with new people, I connected to a guy on Webtalk earlier this week after he shared one of my posts over there. We exchanged some messages, and my last question to him based on his reference to "playing sports" was, "What sports do you play?"
His answer?
"All sports."
LOL! Really? Like, lacrosse? handball? cricket? What kind of "luger" are you?
I decided to leave it at that. If you cannot be specific, don't bother (or come and live in Japan where vagueness is embedded as the primary method of communication)! What do you think? Would you challenge him to be specific or just drop it, or what? Let me know in the comments below.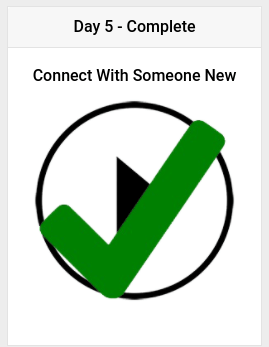 I Found Luke!
As I was on CTP I included the first stop of the ClickTrackProfit "Scavanger Hunt" in my morning TE surfing ritual and found Luke inside Mustang Traffic at Valbeach!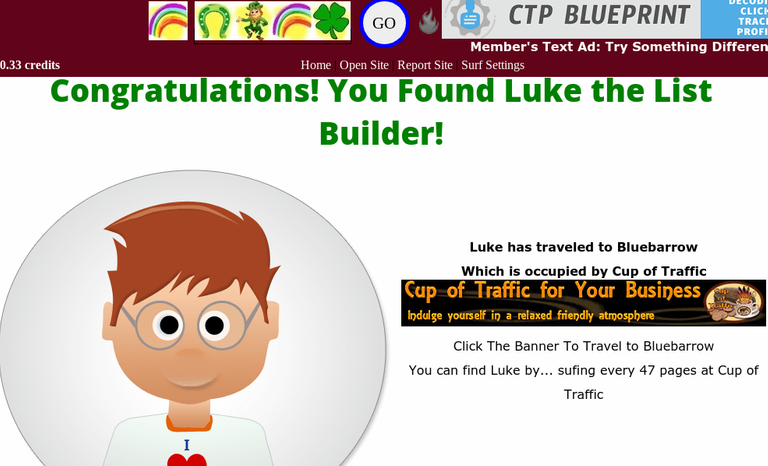 Cheers!
David Hurley
#InspiredFocus