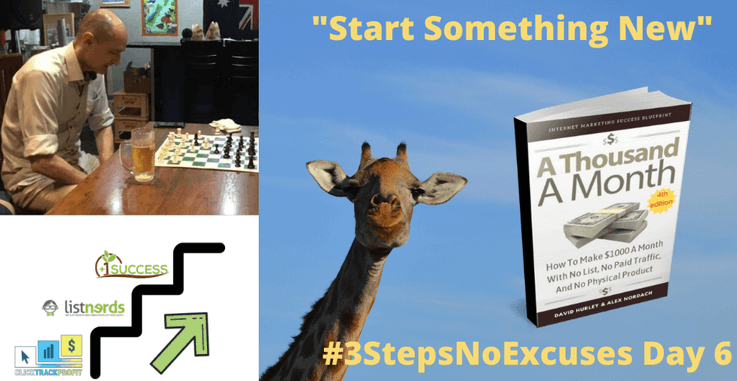 I've fallen behind in this challenge and although it's called #3StepsNoExcuses as a British chap it is in my blood to make excuses about everything!
I did the first two parts of Day 6 on Saturday morning. Then I went out to meet a couple of my college students and take them to a "chess circle" that meets once a month in a community centre near Hiroshima Station. The students are beginners and it was their first time to meet other chess players apart from old "Hurley-sensei" so THAT was certainly a case of "starting something new" – completing the third step for the day!
I Feel Like A Giraffe With A Sore Neck
My neck, which had been somewhat stiff during the day, really began to give me gyp in the evening. The pain in the neck continued all through Monday and the only relief I could get was by lying down on my back for most of the day. So very little got done that day.
It's still pretty bad today, but I've found I can get on with work if I stand, so that's what I'm doing now with the aim of catching up on Day 7 and getting Day 8 done as well. But for now, here's how my Day 6 went:
Day 6 Report
Step 1: CTP – Podcasting
Back in 2005-6 when podcasting was pretty new a friend and I started a podcast about life in Hiroshima and whatever else we wanted to chat about called A-Bomb City. It came out once a week and lasted for a year until we found the pressure of other commitments and of having to come up with new material every week too much for us.
Sadly, the recordings are no longer online as far as I am aware.
I also tinkered with an online business podcast over on Soundcloud.com several years ago, but it didn't last.
Podcasts are a great idea, but you have to be committed to producing content at least once a week and accepting that it is quite a demanding exercise.
Nowadays, I prefer to make ad-hoc YouTube videos instead, especially about chess, but also about online business. Check out my YouTube channels at:
https://www.youtube.com/c/DavidHurleyinJapan (my personal channel, largely taken up with chess videos!)
https://www.youtube.com/c/Hirohurl (my online business channel)
Step 2: ListNerds – Brand Yourself & Build Your List
Today's task was about the importance of email marketing to promote yourself and build your list. This is something that I am already doing, although my current campaign is less about list building and more about raising awareness about the fourth edition of my co-authored book, A Thousand A Month.
However, the emphasis will change back to list-building very soon because I have just "started something new":
Step 3: Plus 1 Success – Start Something New
I have been an upgraded member of LeadsLeap for several years now. They recently added an autoresponder to their toolkit, and a very good one too, so I have been intending to use it to create my new campaigns, but … I haven't got around to it yet!
So for this task I set up a campaign for A Thousand A Month and verified my email address. It's not much, but it is a start, and it is something new connected to my online business.
So that is my "new thing" for this challenge.
Cheers for now,
David Hurley
#InspiredFocus