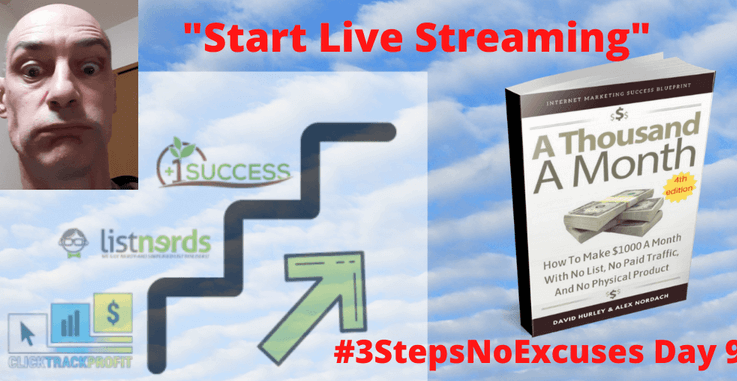 I got through Day 9 of the #3StepsNoExcuses challenge yesterday and have done a bit of follow-up work today…
Step 1 CTP: Taking Action Within CTP
This was a useful review of the resources that we can use inside ClickTrackProfit.com to build our brand.
I had already used the #3StepsNoExcuses challenge as a way to become more involved with the ClickTrackProfit site itself.
Scavanger Hunt
In particular, I started doing the ClickTrackProfit Scavanger Hunt for the first time ever! I have not yet gone through a complete scavanger hunt, but I have been finding Luke once or twice a day (even three times on one occasion), and that helps me to promote my own sites across several traffic exchanges where I know a lot of the CTP community will be surfing.
Get Feedback About Your Landing Page In The Gauntlet
Spurred on by the Day 9 video, I have just posted a new splash page to the "Gauntlet". The Gauntlet is a resource in the ClickTrackProfit back office. You can post your landing page into the Gauntlet and have it reviewed by other ClickTrackProfit members. The feedback they provide can be very helpful. Here's the page I posted for review: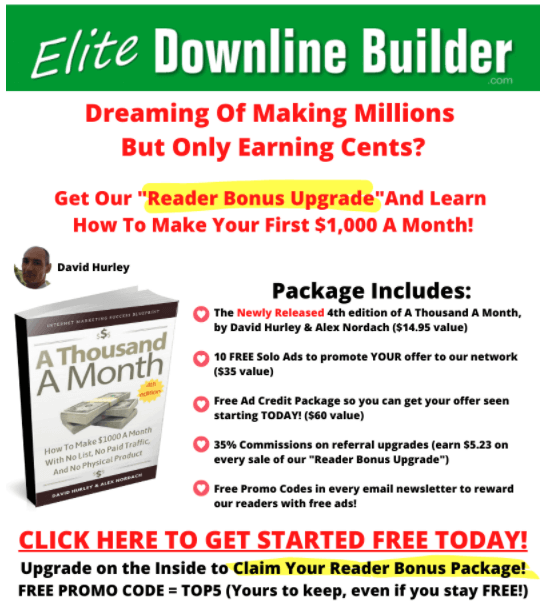 I expect some of the feedback will tell me that I ought to add an opt-in form to my page, but it is actually a splash page that the members of EliteDownlineBuilder can use to promote our new membership level, the "Reader Bonus". Reader Bonus members can earn $5.23 per sale of the Reader Bonus membership level.
Then I surfed a couple of dozen of the pages inside the gauntlet, gave some star ratings and added a few comments here and there.
I had a look at the bidding system for the Spotlight places, and I discovered that I had 950 credits in the "Premium Views" section, so I allocated 100 of them to the EDB Reader Bonus splash page.
Profile Post
One other thing I did was to publish a post in the Profile section of ClickTrackProfit about my progress towards my goal of reaching 60,000 CTP tokens during 2021. That is the first post I have published there for a year. Last time I posted, I reported that I had hit 5,000 CTP tokens. Right now I have over 29,000 CTP tokens and hope to hit 30,000 – the halfway mark – before the end of this month.
Step 2 Listnerds: Check Your Stats
There was not much to see on my Listnerds account as there was no change from yesterday. However, today I clicked a few ads to earn some credits towards my next mailing, which will be in two days time. 🙂
One thing though. My best result with Listnerds so far was a 2.516% CTR (1272 sent, 32 clicks) for a post advertising an infographic with this headline:
Infographic: How To Build Your Own Free Bitcoin Generator
Step 3 Plus1Success: Start Live Streaming
Eeek! Day 9 of Plus1Success is a challenging one! I need a "no excuses mulligan" here.
I shall whip out two handy excuses, first my ever-ready "too busy teaching English classes" excuse (I had a morning and an evening class yesterday) PLUS this week's "pain in the neck – I need to lie down" excuse, which served to fill the afternoon void.
Ah, but there are a couple of get-outs for us!
First, John mentions making a video, and I have made plenty of those. Phew.
Second, we can "join a live streaming event!" And so there I was this morning (Tokyo time) joining in the Thursday Night Live on Facebook!
Our Live Streamers
I heard that @lisamgentile1961 and @robwillmann each did a livestream, so kudos to them. I missed the live action, but here is the link to Lisa's report. Check the recording of her livestream on Twitter:
https://ctptalk.com/hive-119826/@lisamgentile1961/3stepsnoexcuses-getting-free-traffic-from-the-ctp-gauntlet-check-our-email-stats-in-list-nerds-and-even-a-livestream-on-twitter
And here is a link to Rob's report:
https://ctptalk.com/hive-119826/@robwillmann/3stepsnoexcuses-plan-day-9-be-visible-and-engage
My First Live Stream…
Okay, so doing a live stream on Twitter is something I'd like to try. Day 9 is just not the day! And neither is Day 10! However, I will commit to live streaming on Twitter BEFORE the end of the #3StepsNoExcuses challenge in the next 20 days…
Cheers for now!
David Hurley
#InspiredFocus