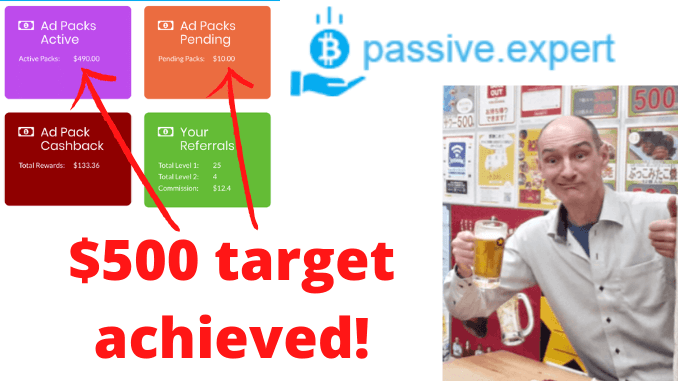 I just hit my first target with one of my "Top 5 Programs," Passive.Expert! Watch this video for the full report:
Passive Expert is a crypto-arbitrage business that was launched by in the U.K. in March 2020 by a guy called Darren Merritt. Passive Expert is a crypto artbitrage site which serves log-in ads and delivers daily profit share based on crypto (and sports betting) arbitrage.
My first goal was to build up to 100 ad packs, each of which qualifies for the profit share. Ad packs cost $5 each and come with 5 x log in ads. The login ads are shown on the site when members log in (obviously!).
If profitability is sustained, with 100 ad active ad packs under my belt, my daily earnings should be somewhere between $3 and $4 per day on current trends.
The Next Steps…
Now that I have achieved my initial target, I will let the daily profit accumulate to $40 worth of BTC.
Each time it hits $40 I will withdraw it and send it across to the second program in my "conveyer belt" of daily crypto profit-generating programs to further compound my profits.
In the second program, each time profits hit the $50 withdrawal threshold, I will withdraw them and add them to the balance of the third program in my crypto conveyer belt to compound even more.
Then, from time to time, I will withdraw profits from the third program and deposit them in my Free Bitcoin account to earn an annual 4.08%.
In this way, I will gradually reduce my risk-exposure with Passive Expert and recoup my initial "investment" as part of my "crypto conveyer-belt" system.
Find Out More
Want to know more about how I am building my daily crypto income across multiple platforms with no out-of-pocket expense?
Subscribe to my FREE "Beginners Crypto Course" to find out more about how to build daily crypto profits from scratch:
http://trckapp.com/BeginnersCryptoCourse/ctptalk
David Hurley
https://elitedownlinebuilder.com
Business blog: https://davidhurley.net
Join my Passive Expert team @ https://passive.expert/?s=135