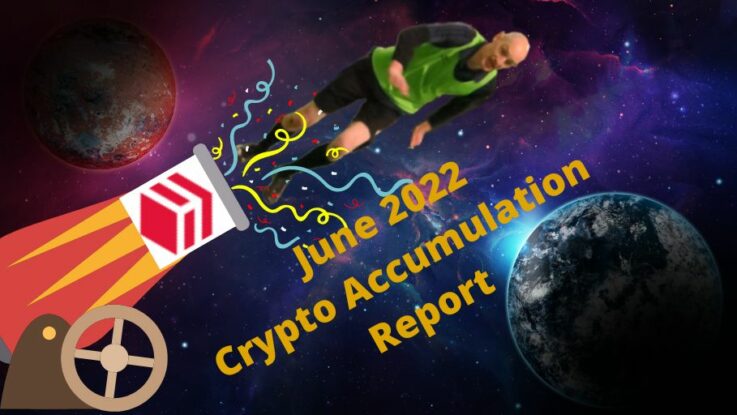 I'm pleased to report that I hit two more of my 2022 crypto accumulation targets in June 2022 and made progress across most of the rest of my portfolio.
SATOSHI
The biggest achievement for me was hitting my 2022 Freebitcoin Satoshi target of 3 million sats. I started the year with just over 1.5 million, which had taken me about three years to accumulate, so I stoked to have doubled that total in just six months.
FUN
Now that I've hit my satoshi target I will be switching attention to my FUN token target, using my excess satoshi to buy FUN each month.
Also, next month I will receive the first of my 25% annual interest payments on all the FUN tokens I locked away starting in August of 2021, so that should speed me on towards my 125,000 FUN token target for 2022.
You can buy and sell FUN through Freebitco.in (which owns the token) or on numerous trading platforms. Here's a blog post I wrote about FUN tokens last December.
SPS
The other target I hit was for Splintershards (SPS), which I only added to my portfolio in February. SPS is a governance token for Splinterlands – a blockchain based NFT game where you can earn crypto every time your array of monsters win a battle. (If you don't yet own any NFTs, collecting Splinterlands monsters is a great way to get started.)
When I set my target for 2022, I aimed for a pretty modest 300 SPS because back in February I wasn't investing anything into Splinterlands and hadn't even started playing the game. What got me into the game (which I'm now hooked on) was the high rates of interest you can earn on SPS that you stake inside Splinterlands.com.
Since the relaunch of Listnerds on the Hive blockchain I have been swapping out some of my daily CTP earnings from Listnerds and using them to by SPS, which, along with the gradually increasing daily dividends, helped me to hit my SPS target much more quickly than I expected.
So now I can switch back to staking most of my CTP to try and hit my 50k CTP target by the end of the year.
HIVE
HIVE is a blockchain where you can get paid in crypto for blogging and curating content. It is backed by a lively community and a lot of exciting developments (such as Splinterlands, and Listnerds, that I've already mentioned). The easiest way to open a Hive account is through the PeakD blogging platform.
Looking at my Hive holdings, I managed to earn just over one Hive per day in June (thanks mainly to the #justonething project), but with fewer than 180 days left of the year, I'm still 585 Hive short of my 2022 target so I need to pull my socks up in the third quarter of the year.
Second Tier Tokens
As for the rest of my second tier Hive tokens, the one I've made most progress with, well beyond my wildest expectations, is LISTNERDS. Once I hit 20,000 LISTNERDS (which I expect to do later this weekend), I will start unstaking a small amount each day and use them to speed up the rate of accumulation of my other tokens.
I made slow progress with all the rest of my second tier tokens except CTPSB during June. Now that a couple more key targets have been hit I certainly expect to see faster progress across my second tier tokens during the rest of the year.
Anyway, here's the latest state of play at the beginning of June 2022:
| | | | | |
| --- | --- | --- | --- | --- |
| Crypto Asset | 1st January | 1st June | 1st July | 2022 TARGETS |
| HIVE | 779 | 915 | 964 | 1,500 |
| CTP | 37,271 | 39,700 | 39,955 | 50,000 |
| CTPSB | 194 | 198 | 198 | 250 |
| INDEX | 1,100 | 1,190 | 1,194 | 1,500 |
| ALIVE | 1006 | 1,796 | 1,975 | 5,000 |
| LEN | 47 | 78 | 82 | 1000 |
| LEO | 46 | 72 | 73 | 1,000 |
| LISTNERDS | 11 | 6,480 | 19,878 | 200 |
| POB | 100 | 264 | 303 | 1,000 |
| FreeBitcoin Satoshi | 1,520,291 | 2,594,300 | 3,010,840 | 3,000,000 |
| FUN | 51,109 | 52,446 | 54,680 | 125,000 |
| SPS | – | 215 | 307 | 300 |
All the best,
David Hurley
#InspiredFocus