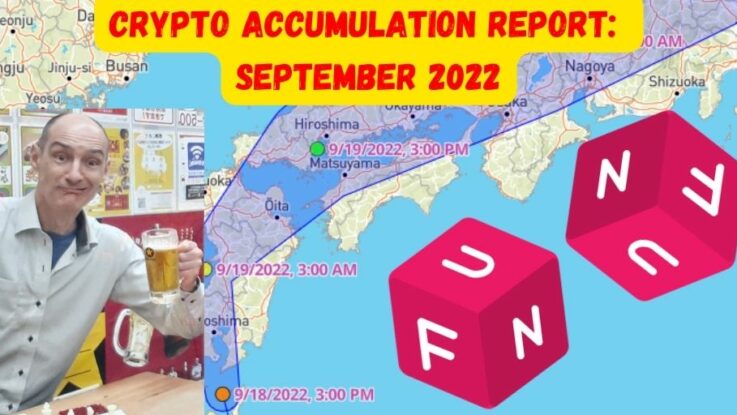 In September my progress with the goals I set in January for my Hive and Hive second tier tokens was quite slow. That is in part because I did not earn so much from content creation as I did not publish a lot in September. Another factor is that I have switched focus to growing my positions in the Splinterlands/Tribaldex diesel pools. The apparent decline in my LEN holdings is also explained by what I'm doing with those diesel pools.
On the other hand, my Bitcoin/FUN strategy is progressing well. I received BTC commissions from SFI and ProfitFromFreeAds in September and so I was able to buy more FUN tokens to lock away for 360 days to earn 25% per annum in interest.
Here's how things stand on 1st October 2022:
| | | | | |
| --- | --- | --- | --- | --- |
| Crypto Asset | 1st January | 1st September | 1st October | 2022 TARGETS |
| HIVE | 779 | 1,058 | 1,088 | 1,500 |
| CTP | 37,271 | 41,323 | 41,854 | 50,000 |
| CTPSB | 194 | 199 | 199 | 250 |
| INDEX | 1,100 | 1,195 | 1,195 | 1,500 |
| ALIVE | 1006 | 2,281 | 2,327 | 5,000 |
| LEN | 47 | 132 | 97 (38 + 59 lp) | 1000 |
| LEO | 46 | 98 | 110 | 1,000 |
| LISTNERDS | 11 | 57,316 (+3,152) | 57,497 (+3,141) | 200 |
| POB | 100 | 409 | 426 | 1,000 |
| FreeBitcoin Satoshi | 1,520,291 | 3,014,065 | 3,004,783 | 3,000,000 |
| FUN | 51,109 | 85,263 | 103,865 | 125,000 |
| SPS | – | 372 (354 st + 18 lp) | 424 (390 st + 34 lp) | 300 |
What Happened To My LEN Tokens?
It looks as if my LEN tokens took a hit in September, declining from 132 at the beginning of the month to just 97 by the end. However, I expect the total to be back up to around 130 tokens by the end of October.
That's because last month I moved several dozen LEN over to Tribaldex and swapped half of them for a LENM mining token to take advantage of the LEN/LENM pairing.
While I no longer expect to hit the target I set in January, the LEN/LENM diesel pool enables me to earn LEN at a faster rate than before. I'm currently earning one new LEN every two or three days, thanks to the desiel pool.
By the way, LEN and LENM tokens are part of the Liotes.com project, built on the Hive blockchain.
SPS Staking and Diesel Pools
Even though I hit my nominal 2022 target for SPS tokens, it is SPS that I am really focused on accumulating at the moment.
I accumulate SPS in three ways:
Playing Splinterlands and staking my winnings.
Earning +/- 30% interest on SPS that I stake inside Splinterlands
Pairing SPS with DEC and Swap.Hive in the Tribaldex diesel pools to earn between 7% and 78% interest.
A Big Leap Forward With FUN
I was able to buy over $100 worth of FUN tokens in September, thanks to the successful transfer of commission payments from SFI and ProfitFromFreeADs – I made a video and a blog post about the successful PFFA transfer a few days ago.
I believe I am on course to hit my 2022 FUN accumulation goal. When I hit my target of 125,000 FUN tokens staked on Freebitco.in I will earn more free daily wheel spins and earn a higher rate of interest (paid daily) on my Bitcoin.
What About LISTNERDS?
I cancelled my subscription and dropped back down to free membership of Listnerds.com. Thanks to my staked LISTNERDS I'm still earning around 15 tokens a day while unstaking 10 a day. So my Listnernds stash is continuing to grow, if very slowly.
The unstaked tokens are now coming on stream every day, but I have only sold a few in the current market conditions. I have put in some sell offers at a range of prices and am in no hurry to see them completed. If the value of Listnerds goes up then it would help me speed up my accumulation of other second tier tokens, but I doubt if that will happen in 2022.
A New Way To Earn INDEX Tokens?
My progress with INDEX ground to a halt in September, but at the end of the month Jon Olson announced a new initiative with the hashtag #Index4Index in which he will tip Index tokens to content creators who post images of Index cards (with words of wisdom written thereon) to the Liketu image sharing site. I blogged about that here and posted my first Index card on Liketu … Let's see how things pan out for this project.
Conclusion
In conclusion, I'm pleased with the progress I've made with SPS and FUN, and not too concerned about the halting pace of my progress with other tokens. Even so, I'd like to make faster progress during the last quarter of the year and see it out with a bang rather than a whimper!
All the best,
David Hurley
#InspiredFocus
P. S. Here are some links to the resources I mentioned in this report: